The Stupid Reason We're Not Getting Pineapple Express 2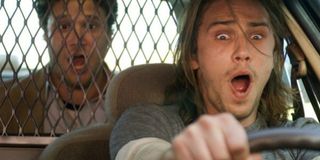 James Franco and Seth Rogen have been flooding the news the past few weeks in light of the of the Sony hacking scandal. After their newest film, The Interview was pulled from theaters in response to violent cyber threats, the two stars have been center stage in the industry. And with talk about their current situation, it is only natural to bring about the duo's future work, including Pineapple Express 2. But, rumor has it, the sequel to the favorite stoner comedy may not get a go ahead because of silly budget restrictions.
According to The Daily Beast Judd Apatow is in the ready to move forward on a Pineapple Express 2 but he is asking Sony Pictures Entertainment for more money than they are willing to give. If rumor is true, Apatow is asking for $5 million more than Sony is willing to give, and $10 million more than the budget for the current unreleased Franco and Rogen flick. But apparently, Apatow is not budging, especially since the first Pineapple Express was a surprise hit. It grossed over $101 million worldwide with a $25 million budget, and was an even bigger hit on home video selling 2.5 million DVDs. He is steadfast in his budget believing the second film will be a crazy success.
Though $50 million dollars for a budget seems ridiculously high, I do believe that Pineapple Express 2 could be a stellar hit, especially in light of the current marijuana culture. When the first film was released in 2008 the bromantic comedy attracted stoners and comedy fans alike, but now with legalization in effect in many states, and weed use on the rise, a second film has the opportunity of attracting an audience on an even larger scale. Plus, we already know fans are desperately awaiting a second film, especially after Sony's trailer tease last year as an April Fool's joke.
There has not been word of any script yet, but the new film will surely play into the world of legalized weed. And regardless of it's budget, it is sure to be a box office hit for two major reasons. First off, Pineapple Express was hilarious and secondly, the Franco/Rogen pair is going to be a highly sought out duo since their free publicity within this recent The Interview scandal. So how soon it will happen is up in the air, but there's no way that Sony can pass up an offer at bringing these two dudes back together again.
Your Daily Blend of Entertainment News
Thank you for signing up to CinemaBlend. You will receive a verification email shortly.
There was a problem. Please refresh the page and try again.