Suicide Squad Dropped A Really Sexy And Kinda Creepy Photo Of Enchantress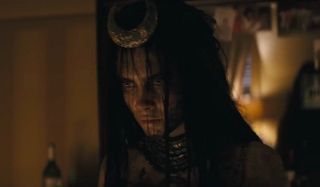 One of the more mysterious players in next year's Suicide Squad is June Moone, a.k.a. The Enchantress, played by Cara Delevingne. Details have been scarce about what to expect from the character, but with 10 months to go until the movie's release, we now have our best look at her yet. Spoiler warning: she's super creepy!
Although this isn't the first we've seen Enchantress like this (take another gander at the first picture of the team,) the new Empire Magazine cover tweeted out by director David Ayer is by far our best look at the 2016's blockbuster's magic user. While makeup-wise Delevingne is grungy and nearly unrecognizable, reception to her look has been mixed online.
One the one hand, she looks extremely frightening, and I'm afraid if I stared into those eyes for too long, my soul would be banished to some hellish dimension. On the other hand, it's a radical departure from the costumes she wears in the comics. Actually, a metal bikini, choker and ornate chains don't constitute much of a costume at all, but given how savage the character has previously been described, it fits the tone they're going for.
It's also a bit ironic that she looks like this, given Delevingne's comments this past summer about the ridiculousness of female superheroes fighting bad guys "naked or in bikinis." Evidently even dangerous magic users can't escape such fashion choices either. Going along with her unusual appearance, Delevingne also gave more insight to Empire about how Enchantress comes to be in Suicide Squad when Moone, her archaeologist human alter-ego, wanders into a sinister cave. According to Delevingne:
While her costume has been altered, it sounds like the split personality aspect will remain intact. To put it simply, June Moone is the normal human, but she'll transform into the "feral" character seen above, and like her comic book counterpart, will wreak destruction. However, unlike in the comics, it hasn't been confirmed whether she's actually part of the Squad, and there was a recent rumor that she may actually be the movie's main antagonist. At any rate, let's hope Enchantress is as captivating a character as she is stunning.
You can see Enchantress in action when Suicide Squad storms into theaters on August 5, 2016. In the meantime, let us know what you think of her look in the comments below.
Connoisseur of Marvel, DC, Star Wars, John Wick, MonsterVerse and Doctor Who lore. He's aware he looks like Harry Potter and Clark Kent.
Your Daily Blend of Entertainment News
Thank you for signing up to CinemaBlend. You will receive a verification email shortly.
There was a problem. Please refresh the page and try again.