Why Suicide Squad's Cara Delevingne Thinks Superhero Movies Are Totally Sexist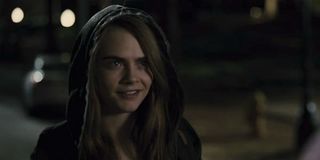 Cara Delevigne may be attached to a highly-anticipated DC superhero film, but that apparently isn't stopping the young starlet from sharing exactly how she feels about the industry that is about to kickstart her acting career. The model-turned-actress made a few opinionated comments about portrayals of women in superhero movies calling them 'totally sexist'... that is except the roles in Suicide Squad, of course.
While discussing her upcoming role as the terrifying sorceress Enchantress in David Ayer's Suicide Squad with Empire Magazine, Delevingne opened up about her concerns with female superheroes, and why the portrayal of them in most superhero films is sexist. She told the magazine (via Yahoo):
Delevigne adds another voice to a growing debate of women's portrayal in action movies. We've had our fair share of powerful women, from Lara Croft to Sarah Connor to Black Widow, but in some action films the women tend to placed more so for sex appeal than badassery. There's certainly been a forward progression in giving female superheroes stronger roles, but when they are kicking butt in five inch heels wearing skin tight leather gear that perfectly shows off optimum cleavage. Well, come on.
It is a bit surprising Delevingne is so open to diss the industry that just gave her her biggest role to date, though. But of course, she does make sure to express that Suicide Squad is different from the rest, telling Empire:
The three women that Delevingne alludes to are herself, Margot Robbie as Harley Quinn, and Karen Fukuhara as Katana. All three are rocking totally different looks as you can see in the full cast photo. And then we've got Viola Davis added into the mix, who has already claimed her character Amanda Waller to be completely bad-ass saying that even "Superman would quake in his tights".
Delevigne will also star alongside a powerhouse male casting of Will Smith as Deadshot, Jared Leto as The Joker, Jai Courtney as Boomerang, Joel Kinnaman as Rick Flag, Adawale Akinnuoye-Agbaje as Killer Croc and Jay Hernandez as El Diablo. Suicide Squad is currently in production and is scheduled to hit theaters on August 5th.
Your Daily Blend of Entertainment News
Your Daily Blend of Entertainment News
Thank you for signing up to CinemaBlend. You will receive a verification email shortly.
There was a problem. Please refresh the page and try again.