New Super Mario Bros. Movie Happening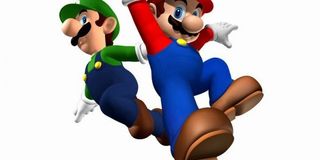 There is a lot of awesome news coming out of Nintendo when it comes to Mario games. Now it seems that we might be getting a Mario Bros. movie coming our way soon.
According to Buzzfeed, a series of emails between Nintendo and Sony Pictures has been made public thanks to the infamous Sony hack. Right now, the parties are still smack in the middle of negotiations over the animated feature film rights of Mario Bros., however, it sounds like chances are very good for Mario and Luigi to be heading to the big screen.
Producer Avi Arad reportedly emailed Sony Studio Chief Amy Pascal photos of himself with Mario Bros. creator Shigeru Miyamoto and Nintendo CEO Satoru Iwata, along with a message announcing that he's the proud parent of "mario the animated film."
Now, it seems that the deal isn't officially closed. When Buzzfeed first broke this story, Arad followed up to let them know his negotiations were merely beginning with Nintendo. So it seems Sony Pictures and Nintendo are still hammering out the details, but it stands to reason that they are making great progress in their negotiations.
Of course, there has been a Mario film adaptation before. Back in 1993 there was a live-action adaptation of the game, Super Mario Bros., starring Bob Hoskins as Mario Mario, and John Leguizamo as Luigo Mario (of course we can talk about if Luigi and Mario actually have a last name later). The movie...was not great. Trying to bring reality into a world where a spikey dragony turtley guy steals your girlfriend and hops about to different castles just didn't really work for audiences. Go figure.
Because of the '93 flop of a film, Nintendo has been pretty hesitant to release film rights for Mario. However, an animated picture has a lot more potential to be fun. Spikey dragoney turtley guys are far more normal in the animated world.
Even if an agreement is reached, this is only step one in greenlighting this film. Before the movie can even go to production, the film will have to go through a pretty long script development process. However, it seems like Arad has got a lot of passion for this project. In one of Sony's leaked emails, Sony Pictures Animation President of Production Michelle Raimo Kouyate tells Arad that they want to build a Mario empire, and that she could think of ideas for 3-4 Mario movies right out of the gate.
Being that this news is all the product of a giant security breach, we might not have all of the context we need. Arad has made it very clear that negotiations are very much still in process between Sony and Nintendo. However, with all parties this excited about working together, we've got some fun stuff coming soon in the world of animation.
Your Daily Blend of Entertainment News
Thank you for signing up to CinemaBlend. You will receive a verification email shortly.
There was a problem. Please refresh the page and try again.