Super Troopers 2 Will Shoot This Year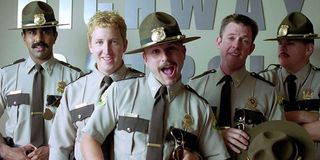 The outlandish American comedy troupe Broken Lizard has been making movies since 1996's college laffer Puddle Cruiser. But their 2001 cop comedy Super Troopers is by far their most popular, having been accepted as a contemporary cult classic. Group members Jay Chandrasekhar, Kevin Heffernan, Steve Lemme, Paul Soter, and Erik Stolhanske get asked about the possibility of a Super Troopers sequel at just about every opportunity. The latest of these occurred in an interview on John Canzano's radio show Bald Faced Truth this past Friday, where two of the crew were promoting their live comedy show tour. Lemme and Heffernan, who played Mac and Farva in the first film, not only confirmed plans for a sequel, but also promised it's coming soon:
Rumors about a Super Troopers sequel have been floating around for years, but the first confirmation that a script was in the works came in 2009 while the Broken Lizard crew did press for the restaurant-set comedy The Slammin' Salmon. Back then Soter and Chandrasekhar (Foster and Thorny in Super Troopers) said the script sent the titular troopers to the border of the US and Canada, where a recent land reassessment has determined that some areas previously thought to be Canadian are actually American. So these crazy cops are assigned to the newly declared US border towns to keep order amongst some angry ex-Canadians. However details on the latest script have not been released, so we don't know if this will be the plot of the soon to shoot Super Troopers 2 or if the cops will be up to some other insane shenanigans.
The next mention of a sequel arose in the summer of 2012, when the Chandrasekhar-directed comedy The Babymakers was gearing up for its theatrical debut. Then he and Heffernan admitted they were working to get Super Troopers 2 going, but their was a "legal situation" over the rights that needed to be resolved first. Finally, earlier this year when Heffernan and Lemme were doing press for a stand-up special, they suggested these legal obstacles had been overcome, and that the sequel could be in production by year's end, which brings us to today.
Lemme and Heffernan's comedy tour seems to be the main source for updates on Super Troopers 2 lately. And with a string of shows scheduled in Canada over the next week, we expect there will be more questions asked about this sequel, and hopefully more details dropped. In the meantime, you can revisit the trailer for the first movie below:
Your Daily Blend of Entertainment News
Staff writer at CinemaBlend.