New Superhero Movie Adds Diamond Dallas Page To What Might Be Greatest Cast Ever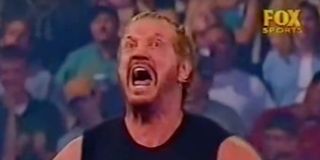 Adi Shankar is not your typical movie maker. Along with producing features, including Dredd, The Grey, and A Walk Among the Tombstones, he also worked on a number of short films, like Venom: Truth in Journalism with True Blood's Ryan Kwanten, and the dark and gritty Power/Rangers short he made with Joseph Kahn. Now, he's directing his first feature film, and it's a superhero movie, no less. But what's most interesting is the insane cast he's put together.
According to The Wrap, the film Adi Shankar's Gods and Secrets features WWE star "Diamond" Dallas Page, as well as Twilight stars Kellan Lutz (Emmett) and Jackson Rathbone (Jasper); You're Next star Sharni Vinson; comedian Andy Milonakis; Denise Richards; Jane Seymour; Breaking Bad vet RJ Mitte (Walter White Jr.); and Glee stars Max Adler (Dave Karofsky), Mark Salling (Puck), and Josh Sussman (Jacob Ben Israel). If that weren't already an oddball cast, three more have joined — celebrity blogger Perez Hilton, director-actor Shekhar Kapur, and another WWE star, John Morrison.
Take a moment to digest all of that…
Now, onto the more pressing question: what the hell is this movie about? Well, it's not your typical superhero movie, we'll tell you that. Adi Shankar's Gods and Secrets tells of the darker side of superheroism. And we're not talking about stuff like we've seen in The Dark Knight trilogy and Man of Steel. The plot centers around the ramifications of a world filled with superheroes, and what happens to the superheroes themselves and the people they protect. Shawn DeLoache, who produced episodes of Welcome to Neverland and wrote episodes of The New Adventures of Peter and Wendy, penned the script for the film.
Yes, it doesn't sound like anything we're used to. In fact, on paper, it sounds more like one of those Scary Movie-esque superhero spoofs. But, because it's Shankar, there's already a level of interest. He's coming at projects from a fan perspective, as he did with Power/Rangers. Featuring James Van Der Beek and Katee Sackoff, it took the world of the Mighty Morphin' Power Rangers and took it to a much darker place. Hopefully he'll do the same with superheroes.
The film doesn't have an official released date, but it will air on HBO, which is a great home for someone as experimental as Shankar.
Your Daily Blend of Entertainment News
Thank you for signing up to CinemaBlend. You will receive a verification email shortly.
There was a problem. Please refresh the page and try again.