A Surprising Number Of Academy Members Admit To Not Seeing The Best Picture Nominees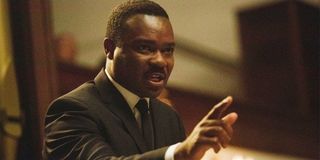 There's typically some outrage every year related to which contenders make the final cut and become full blown nominees, but there deserves to be a whole lot more outrageous regarding this. Apparently an average of 5.5% of polled Academy members don't even watch the Best Picture nominees.
This surprising revelation comes courtesy of a new Hollywood Reporter piece, which polled how AMPA members watched each of the films that are currently up for the 2015 Best Picture Academy Award. And the results that were returned will leave passionate moviegoers agog.
According to their figures:
- 5% of people asked didn't watch American Sniper
- 2.6% failed to see The Grand Budapest Hotel
- 10% missed Selma
2% didn't see Birdman
7% failed to watch The Theory Of Everything
- 5% missed Boyhood
- 4.5% didn't watch The Imitation Game
- And 7% failed to get around to watching Whiplash.
Now, this doesn't mean that they actually went and cast their final vote when the Academy asked them for their opinion. However it's probably safe to assume that if they decided to respond to this survey then they also took the time to cast their Best Picture vote too. But rather than having an informed vote on all of the movies that were nominated, they simply just ticked for the film that they've actually seen/liked.
All in all it's just rather depressing. Of course we've all been in that situation where we've insisted that we're going to see a film, only to then either forget or get bogged down by another of life's frivolities. Then, by the time that you finally decide to go and watch the film, you're horrified to find that it has been removed from your local cinema and you now have to wait for weeks, maybe months, for it to be released on DVD. It's a common occurrence.
But these Academy members can't really hide behind this oversight. That's because they all received screeners delivered straight to their homes that they could watch at any time in the comfort of their abode. An overwhelming majority admitted to watching a screener rather than visiting a cinema for six out of the eight Best Picture nominations. In fact Boyhood was the only film that was watched by the majority of Academy members in a screening room or theater (48% did just that, with 45% watching it on a screener), while it was an even split for The Grand Budapest Hotel, as 48% admitted to seeing it on a screener and another 48% admitted to watching it in a theater. But before you start fretting about the Academy members' pennies, don't worry; they didn't have to pay to visit the screening room.
It's very unlikely that the votes cast by those who didn't see the entire Best Picture field will prove to be decisive. But it's another sad example of just how out of touch the Academy and its members are with the modern moviegoer. Boyhood is still widely tipped to take the Best Picture gong during Sunday's ceremony, while The Grand Budapest Hotel and Birdman are regarded as the leading outsiders.
Your Daily Blend of Entertainment News