Taylor Lautner Officially In New Moon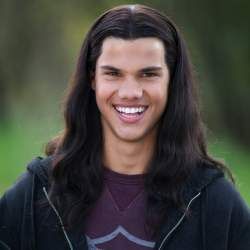 We told you earlier today that Taylor Lautner would most likely reprise his role as Jacob Black in New Moon, the much-anticipated sequel to Twilight. And now it's official: Summit Entertainment has sent out a press release announcing that they are "pleased to confirm" Lautner's participation in the new movie.
As you may have read, the question was whether 16-year-old Lautner would be big or brawny enough to play the character in the sequel, in which Jacob gets in touch with his werewolf roots and apparently gets a lot taller and hairier. Lautner has talked publicly about how excited he is to prepare for the role, and apparently Summit and director Chris Weitz figured that the more the replicated the successful original film, the better. Well, except for hanging on to the director, but that's another issue.
Lautner is quoted in the press release, saying, '"My experience on Twilight was wonderful and I am looking forward to continuing on with the team for New Moon. I have been working hard preparing for the physicality that this role will require and can't wait to get started with the filming of New Moon."
So take it easy, Robert Pattinson-- soon there will be someone else competing for the affections of Bella, and hopefully the teenage girls who have made your life crazy. Who would have guessed that 2009 was the year teenage girls would have to choose between loving a vampire and a werewolf.
Staff Writer at CinemaBlend
Your Daily Blend of Entertainment News
Thank you for signing up to CinemaBlend. You will receive a verification email shortly.
There was a problem. Please refresh the page and try again.