Teenage Mutant Ninja Turtles 2 Officially Announced, Gets A Release Date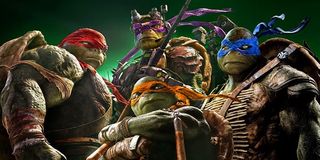 The Teenage Mutant Ninja Turtles franchise has been going steady for a while now, resulting in comics, multiple television series, and now five big screen films. But the latest, this weekend's hit movie, might end up turning the characters from reliable pop culture presences into the sensations they were when the characters were ruling the multiplexes and TV's in the early 90s. A $65 million opening certainly means that it's time for Turtle Power again, and now we're looking right at Teenage Mutant Ninja Turtles 2.
Paramount has announced that, on the back of the massive opening for Teenage Mutant Ninja Turtles, they're going to begin developing a sequel. Josh Appelbaum and Andre Nemec are returning to script this follow-up, which will hit theaters on June 3, 2016. That's very quick turnaround, considering the extensive effects that go into actually bringing these new motion-capture Turtles to the screen. Presumably they have a story in place - though if you've seen this first film you'll know that's quite an assumption!
It's unclear whether Jonathan Liebesman will return to direct Teenage Mutant Ninja Turtles, which does not bode well for the Wrath of The Titans helmer. Paramount Pictures and Platinum Dunes seem to be in wait-and-see mode there. Critics were unkind to the film, and the Cinemascore rating was only a 'B'. Moreover, this is a pretty well-known property being brought to the big screen, and Platinum Dunes has a history of getting big openings from brand awareness, and steep second weekend drops. Their A Nightmare On Elm Street reboot plummeted 72% in its Friday-to-Sunday cycle, and the Friday The 13th reboot that came before it plunged an incredible 80%. The Purge: Anarchy downshifted to 65% recently, which is one of the better results in the company's history. Teenage Mutant Ninja Turtles is a kids' film, which should be different, but a large chunk of that opening weekend crowd were nostalgia-seeking fanboys who might affect any word-of-mouth the film wants to achieve. If the $125 million-budgeted film only ends up doubling these opening weekend results domestically, the studio will know they have substandard product and it's possible a new director will be brought in.
Even though the film was expensive, adjusting for inflation this is the biggest Teenage Mutant Ninja Turtles weekend yet. Producer Nickelodeon is going to go hard on a follow-up, especially if early international results hold steady (possibly an eventual $200 million plus overseas gross at the very least). This means the Ninja Turtles mythology is about to get a workout. Producers have spoken about widening the film's aim and bringing in characters like Bebop and Rocksteady, and it's possible that we could end up seeing a sequel that mirrors the first live action mvoies. Oddly enough, aside from the "magic blood" bit that every blockbuster has been using lately, the stories behind the recent Teenage Mutant Ninja Turtles and the 1990 original film are similar. Could this mean that perhaps the characters will again explore The Secret Of The Ooze? If so, a Vanilla Ice cameo needs to be addressed. This is non-negotiable, guys.
Your Daily Blend of Entertainment News
Thank you for signing up to CinemaBlend. You will receive a verification email shortly.
There was a problem. Please refresh the page and try again.