Watch Tom Hanks Recreate His Entire Career In 8 Minutes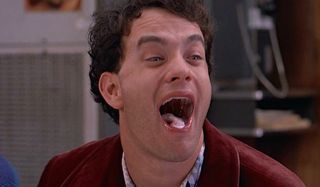 The inaugural episode of The Late Late Show with James Corden would see the Brit actor begin his tenure as the new host with a loose, informal bit of flair that seems to deviate from the typical talk show conventions. However, Corden would also nab the services of the one and only Tom Hanks to help kick off a quirky, blue-screen-centric segment that we hope will become a repertory part of his show. Both Hanks and Corden go through a bit of incisive improv surveying the long film career of the Oscar-winning actor in an hilariously comprehensive manner.
The segment, called "Every Tom Hanks Movie in 8 Minutes" may not have covered every Tom Hanks movie, nor at 6:54 did it take up 8 minutes. However, it was a surprisingly sentimental, but chaotic and rollickingly riotous look back at the long and storied career of Tom Hanks, tackling each film in no particular order. As a result, it essentially juxtaposes some of his early rompish comedies alongside some of his serious dramatic awards-circuit-friendly projects that gained him such critical acclaim as one of America's most successful actors. Yet, the proverbial mixtape of a live-performance seems to work wonderfully. Who'd have ever thought that Road to Perdition could be so seamlessly followed by Joe Versus the Volcano?
For Corden, the segment allowed the actor-turned-talk-show host to play a hilarious sidekick alongside a legendary actor for tributes to some of his most iconic roles. Just the mere fact that they integrated a full performance of the "Jimmy Jimmy Coco Puff" song that was so integral to Hank's 1988 breakthrough, Big almost stood poetic. In that movie, the freshly "embiggened" Josh desperately, but successfully, uses that song to prove his true identity to his friend, Billy. Likewise, by that excellent performance of the rather elaborate number, Corden is proving to his new audience that he does not intend to phone in this show anytime soon.
The sketch, despite its almost improvised appearance, was obviously carefully scripted and well-coordinated and Hanks was clearly a standup guy for helping Corden launch his show with such a slick segment. Plus, his delivery of the classic A League of Their Own line, "There's no crying in baseball!" was PERFECT and was an explosion of nostalgia. With that said, the only minor drawback was the limitation to the film medium, since it would have been nice to see a quick homage to the thing that first brought Tom Hanks to the dance in the early 1980's "gender-bending for the sake of decent rent" sitcom, Bosom Buddies.
The brilliant sketch will hopefully be just a taste of what's to come with The Late Late Show with James Corden, which can be seen on CBS, weeknights at 12:35am ET/11:35pm CT.
Your Daily Blend of Entertainment News
Thank you for signing up to CinemaBlend. You will receive a verification email shortly.
There was a problem. Please refresh the page and try again.