Telluride Film Festival Lineup Reveals Early Awards Hopefuls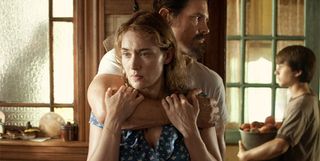 The best film festivals aren't always the best vacation spots-- the Sundance Film Festival happens at the peak of ski season and most of its attendees are stuck inside watching movies, and while Toronto is a lovely city, it's not exactly a top relaxation destination. But it's hard to beat the combination of Telluride, Colorado over Labor Day weekend-- blue skies, moderate temperatures, endless mountain views-- and the variety of films the fest lines up. Unique among film festivals in that it only announces its lineup once attendees are already on their way, Telluride asks you to buy your badge on a wing and a prayer that the lineup will be good. And, as always, this year's selection has lived up to expectations.
Hot fall releases like Alfonso Cuaron's Gravity, Joel and Ethan Coen's Inside Llewyn Davis, Jason Reitman's Labor Day and Alexander Payne's Nebraska will be among the highlights of the festival, which kicks off on Thursday and extends to an extra day, September 2, in honor of the fest's 40th anniversary. Sure, many of these films will eventually be in theaters, but the festival is also offering live performances from Punch Brothers, doing songs form Inside Llewyn Davis, and the chance to see a film in a theater with as badass a name as the Werner Herzog theater.
What does this Telluride lineup mean for those of us unlucky enough to be headed to the mountains? As always, it's an early glimpse into the movies that studios are hoping to push towards awards. Reitman, for example, has been a perennial fixture there, bringing three of his last four films-- though, notably, he didn't show up with Young Adult, a dark and slightly bitter movie that was never an awards favorite. Does that mean he and distributor Paramount have higher awards hopes for Labor Day? I'd say so. Same goes for Gravity, which is earning ecstatic reviews after its premiere at the Venice Film Festival today. It was added to the Telluride lineup before those reviews were out, obviously, and it's clear that Warner Bros. is eager to keep the buzz rolling between now and its Toronto Film Festival bow-- and helping remind awards voters and other pretentious types that it's not a sci-fi film they can ignore.
A few other titles, including Nebraska and the provocative French film Blue is the Warmest Color, are holdovers from Cannes, but can use the Telluride bow to start building buzz all over again as the long ,grueling fall movie season kicks off. Check out the full Telluride lineup below, and keep an eye online throughout the holiday weekend for the word on these and many other films. We're sitting out the beautiful Colorado, festival, but before you know it Sean will be in Toronto with the full report from that enormous fall festival. Summer is over! Let the madness of autumn begin!
· ALL IS LOST (d. J.C. Chandor, U.S., 2013)
· BEFORE THE WINTER CHILL (d. Philippe Claudel, France, 2013)
· BETHLEHEM (d. Yuval Adler, Israel, 2013)
· BLUE IS THE WARMEST COLOR (d. Abdellatif Kechiche, France, 2013)
· BURNING BUSH (d. Agnieszka Holland, Czech Republic, 2013)
· DEATH ROW: BLAINE MILAM + ROBERT FRATTA (d. Werner Herzog, U.S., 2013)
· FIFI HOWLS FROM HAPPINESS (d. Mitra Farahani, U.S., 2013)
· THE GALAPAGOS AFFAIR: SATAN CAME TO EDEN (d. Dan Geller, Dayna Goldfine, U.S., 2013)
· GLORIA (d. Sebastián Lelio, Chile, 2013)
· GRAVITY (d. Alfonso Cuarón, U.S./U.K., 2013)
· IDA (d. Pawel Pawlikowski, Poland, 2013)
· INSIDE LLEWYN DAVIS (d. Joel and Ethan Coen, U.S., 2013)
· THE INVISIBLE WOMAN (d. Ralph Fiennes, U.K., 2013)
· LABOR DAY (d. Jason Reitman, U.S., 2013)
· THE LUNCHBOX (d. Ritesh Batra, India, 2013)
· LA MAISON DE LA RADIO (d. Nicolas Philibert, France, 2013)
· MANUSCRIPTS DON'T BURN (d. Mohammad Rasoulof, Iran, 2013)
· THE MISSING PICTURE (d. Rithy Panh, Cambodia/France, 2013)
· NEBRASKA (d. Alexander Payne, U.S., 2013)
· PALO ALTO (d. Gia Coppola, U.S., 2013)
· THE PAST (d. Asghar Farhadi, France/Italy, 2013)
· SLOW FOOD STORY (d. Stefano Sardo, Italy, 2013)
· STARRED UP (d. David Mackenzie, U.K., 2013)
· TIM'S VERMEER (d. Teller, U.S., 2013)
· TRACKS (d. John Curran, Australia, 2013)
· UNDER THE SKIN (d. Jonathan Glazer, U.K., 2013)
· THE UNKNOWN KNOWN (d. Errol Morris, U.S., 2013)
Your Daily Blend of Entertainment News
Staff Writer at CinemaBlend