Thank God The Golden Globes Recognized Three Overlooked Actresses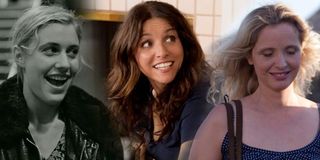 It's so strange. Normally I ignore the Golden Globes, regarding them as Oscar's kooky cousin. Sure, they throw a fun party, but being too familiar with them is not something one brags about. I mean, their taste can be pretty sketchy. Like remember when they picked The Tourist as one of the best movies of the year? Yeah that happened. But today, I find myself grateful for the Golden Globes, or at the very least grateful for their separation of dramas and musicals/comedies, because it's allowed for some outstanding performers to get acclaim they will likely miss out on Oscar night.
The Best Actor in a Musical or Comedy didn't offer much in the way of surprises, brandishing names like Leonardo DiCaprio (three-time Oscar nominee), Christian Bale (Oscar winner), and Joaquin Phoenix (three-time Oscar nominee). But the Actress category for Musical and Comedy presented some names that have been largely excluded from award season talk, including Julie Delpy (Before Midnight), Greta Gerwig (Frances Ha), and Julia Louis-Dreyfus (Enough Said). And for this, I am grateful.
It's a cruel fact of award season that big, showy performances full of despair or dramatic physical transformations draw the most attention. Consider Anne Hathaway's win last year at the Academy Awards for Les Miserables! For that she did both. She delivered a big showy song number about being desperate, while having her long beautiful hair cut off. Of course she was that season's frontrunner. That role was basically written to win Oscars. But when it comes to comedy, performers are often overlooked in favor of their more dramatic peers.
The Oscars are usually very snooty this way. And while there has been some signs of change (Melissa McCarthy's 2012 nod for Bridesmaids, Jennifer Lawrence's win last year for Silver Linings Playbook), it's still slow going. So let's be thankful for the Globes that allow a wider range of performances to be recognized. Sure, Gerwig's portrayal of a reckless aspiring dancer doesn't have the big monologues of Gravity or Saving Mr. Banks, but she is vibrant and honest in the sensational indie comedy, which is Now Streaming.
Having just won a Lead Actress Emmy for Veep, Louise-Dreyfus surely isn't starved for praise right now. But Enough Said is a lovely, heartwarming and truly funny movie from Nicole Holofcener that more people need to be encouraged to seek out. And while I'd quibble about calling Before Midnight a comedy (or Blue Jasmine a drama for that matter) I'm delighted to see Delpy get some well-deserved recognition for how difficult the role of Celine is. Not only has she carried it over three films now, but also she managed to create a complex character--along with co-star Ethan Hawke and director Richard Linklater--who keeps us on our toes. She's no longer the outright dreamy French girl anymore. Celine is resentful, wounded and at times harsh. And yet, she's still a character we cling to. This is a mean feat and deserves cheers!
If the SAG awards will once more be a big indicator of Oscar's contenders, none of these three ladies will appear in those nominee boxes on March 2nd. But at least these actresses will some well-earned spotlight at a star-stuffed affair that's a hell of a good time to watch. And if you've missed any of these three films, use the Globes as your excuse as to why you must catch up on them immediately.
Your Daily Blend of Entertainment News
Staff writer at CinemaBlend.