Thor: The Dark World Concept Art Reveals A Few New Faces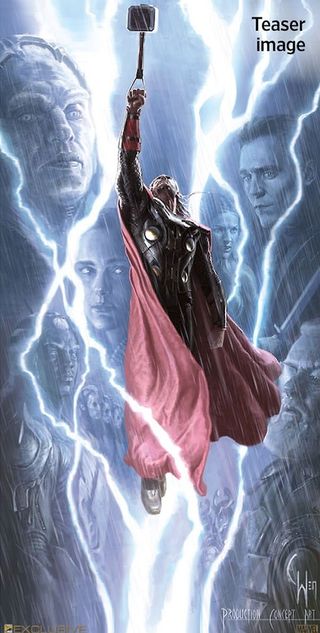 Yesterday we got a very official, very action-packed look at concept art from Captain America: The Winter Soldier, the Marvel movie that will kick off the summer movie season next year. Today's look at concept art from Thor: The Dark World is a little less official-- it comes from Comic Book Movie and appears to be early art from wall posters, not anything you'll actually see in theaters-- and it's got a little less action. Still, there are a lot of familiar faces lurking there behind the God of Thunder, including Loki, Jane, Sif and Odin, and what appears to be our first look at Adewale Akinnuoye-Agbaje as Algrim the Strong, who eventually becomes Kurse.
Comic Book Movie also provided a look at another bit of Thor art, which presumably you'll be able to own for yourself closer to the film's November 8 release. There's a nice minimalism to it, and it reminds us-- in a good way!-- of the arty posters for The Wolverine that have been popping up everywhere lately.
Finally, CBM quotes from the same Entertainment Weekly in which they debuted the Captain America concept art, with Marvel Studios President Kevin Feige promising a much deeper look inside Thor's home land of Asgard:
With Thor: The Dark World coming out in just a few months, and it and The Winter Soldier as the only official items on Marvel's Comic-Con agenda, we're expecting to see a whole lot from both of them at next week's convention. The trailers for Thor: The Dark World have so far promised massive levels of destruction here on Earth, and surely they'll promote some of that. But I'm now very curious about those secret nooks and crannies of Asgard, since with Natalie Portman's Jane now traveling up into that realm and kicking off a rivalry with Sif, we ought to be spending a lot more time in Thor's homeland. Check out the Thor: The Dark World trailer below, and come back next week for our complete Comic-Con coverage, everything Marvel included.
Your Daily Blend of Entertainment News
Staff Writer at CinemaBlend
Your Daily Blend of Entertainment News
Thank you for signing up to CinemaBlend. You will receive a verification email shortly.
There was a problem. Please refresh the page and try again.