Thor Looks Like He's About To Murder Someone In This Avengers 2 Poster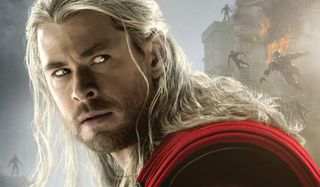 Bringing together the ultimate cast of characters, including Black Widow, Iron Man, Captain America, Hawkeye, Hulk, Scarlet Witch, Falcon, Nick Fury, Maria Hill and many more (including the long-awaited Vision, as well as the menacing technologically-driven supervillain Ultron), Marvel's Avengers: Age of Ultron is likely to be an epic action bonanza like no other. Getting some solo treatment in the upcoming film's latest poster is none other than the Asgardian warrior and God of Thunder, Thor. As you can see in below, the ultra-jacked up superhero is looking mighty serious, as if ready to murder someone.
Just in case we had any doubts that Thor would be ready to kick some ass in the new Avengers sequel, the above poster certainly reassures us. Looking suspiciously over his shoulder, while the enemy robots swarm around him from all angles including overhead, we're curious to see what Joss Whedon has in store for us in this sure-to-be monstrous installment. With a tight grip on his trademark hammer Mjolnir, we're sure to see tons of crushing destruction and mass annihilation.
It was only a few days ago that Marvel released the first official poster for Avengers: Age of Ultron, giving drooling fans a tiny but effective taste of what's to come in the upcoming sequel. While Cap and Tony Stark will surely be on the front lines of battle, the poster definitely suggests (as expected) that Thor and Hulk will be getting a healthy dose of screen time. But don't expect iconic characters like Thor to just show up and wield his almighty Mjolnir just because he's friends with the other Avengers. As Chris Hemsworth previously confirmed, his character brings some much-needed skills and abilities to the table in the fight against Ultron... his ancient Asgardian knowledge and more importantly his ability to travel between realms, which he will use to "pull out something that's hugely useful."
While Thor will be bringing many of his familiar attributes to the new installment, he will also reportedly show audiences a bit of a new side to the character. Traditionally, uptight, somewhat arrogant and impersonal, Avengers 2 aims to shine a light on a more "loosened up, more accessible" version of the Asgardian warrior. Hemsworth himself talked about his character being more relaxed in this next installment some months back, explaining the changes as a result of his being on Earth as opposed to Asgard.
Avengers: Age of Ultron follows the post-S.H.I.E.L.D Avengers as Stark unintentionally sparks a new threat upon his activating a dormant peacekeeping program. When the A.I. Supervillain Ultron decides humans must be wiped from Earth, the Avengers come together to bring the all-powerful threat to mankind down. WHile a lot has been said about the upcoming movie, the big question still remains... will this mark Spider-Man's MCU debut.
Your Daily Blend of Entertainment News