Tina Fey And Jason Bateman Learn Family Sucks In This Is Where I Leave You Trailer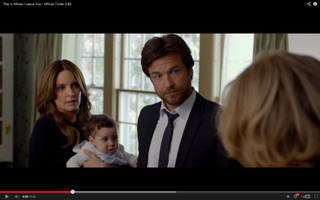 Above, you can catch the trailer to This Is Where I Leave You, the new drama-comedy from Shawn Levy. An impressive cast has been assembled for this movie, including Jason Bateman, Tina Fey, Adam Driver, Corey Stoll, Jane Fonda, Rose Byrne, Connie Britton, Dax Shepherd, Kathryn Hahn and Abigail Spencer. The film details the story of siblings that reunite following the death of the family patriarch, spending one week under the same roof. Jonathan Tropper has adapted his own novel to the screen.
The results seem a bit... broad? Obviously, TV vets Bateman and Fey get the best lines, but Adam Driver could be a standout, playing a more overtly comedic role. It's been said that this role earned him the attention of producers when they were casting for Batman V. Superman: Dawn Of Justice, as he apparently steals This is Where I Leave You from his celebrated co-stars. This would be quite the loaded cast to steal from, as each one of them has provided the focal point for a major television show in the last decade.
Unbelievably, this smaller-seeming film comes from Shawn Levy, who last directed the crass The Internship, and before that the expensive Real Steel. Clearly Levy's shift to more serious adult fare (this film is apparently rated R) is temporary; his next directorial effort is Night At The Museum: Secret of The Tomb. You can't blame a guy for liking money. It's curious as to what Warner Bros.' expectations for This Is Where I Leave You are commercially, as it's being released on September 12th, safely distanced from the summer movie season, but still quite a bit farther from awards season.
If this trailer has anything to say about This is Where I Leave You, it looks like something pretty skippable, filled with bawdy sitcom jokes about masturbation, breast augmentation and large penises. Yes, that's Jane Fonda, a part of cinematic history, being reduced to a pair of breasts that Jason Bateman can joke about, hungering for men who are "hung." Evidently, this is what's become of movies for adults: the marketplace has been overrun by superheroes, so adults have to be comfortable with boob jokes just to find sanctuary.
Of course, maybe the trailer is spotlighting the weakest elements of This is Where I Leave You thus far, in an attempt to appeal and/or pander to the broader audience, many of whom will see this clip before the latest summer blockbuster. Makes sense: if you were releasing a quiet, modest family drama in today's marketplace, you'd want to fill the trailer with as many farts and slide-whistles as possible. And who knows, maybe this film becomes an awards contender in a slim year. Or maybe you just rent it from the Redbox by accident and end up watching it during awards season. We'll find out more in a few months.
Your Daily Blend of Entertainment News