Tom Hardy, Benedict Cumberbatch Rumored For Doctor Strange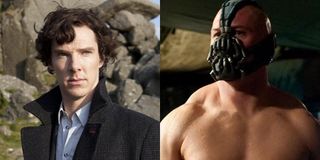 Marvel loves announcing and leaking their stuff on Fridays, don't they? Two weeks ago, they sent the industry in a tizzy when they announced that Ant-Man was director-less. Now, not only have they leaked two more potential Ant-Man helmers, but they're also spreading word around the industry that the title role in Doctor Strange is up for grabs. And while it's probably a big list, it turns out two names sought for the role include Tom Hardy and Benedict Cumberbatch.
Deadline reports that Marvel is assembling their cast list on the film, and the two names at the top (or in the middle – is this list ranked? SPECULATE!) are Benedict Cumberbatch and Tom Hardy. Marvel likely sees Doctor Strange as a key piece in their post-Avengers: Age Of Ultron Phase Three plans (particularly with no Iron Man 4 on the horizon), so there's a lot of pressure on the fantasy film to be a major player as far as box office and, in the wake of Ant-Man, positive geek buzz. And now, a look at the candidates!
Tom Hardy
Hardy, 36, is one of the most promising leading men in Hollywood. Though he has brutish good looks, he often obscures or outright hides them in a series of facial prosthetics and outlandish accents. He's something of a chameleon, in that his appearance is never the same from one movie to the next. He'd bring a working-class edge to Strange, and make him convincing in hand-to-hand battle, which would be helpful if they're making a more grounded Doctor Strange. New director Scott Derrickson cut his teeth on lower budgeted fare, and it's possible that he's been picked for the job to lend a hand in more practical effects work.
However... gee, Marvel, why don't you get in line? Hardy is on EVERYONE'S wish list: he's not the biggest leading man name, but everyone is eager to make him one. He's currently working on Legend, where he'll play twins. He's also attached to potential franchise-starter Splinter Cell, as well as Kathyrn Bigelow's The True American, and the Elton John biopic Rocketman. And who knows: maybe they'll call him back for the eight billionth reshoot on Mad Max: Fury Road. Hardy's done the superhero two-step, playing the villain Bane in The Dark Knight Rises. Doctor Strange fans will be happy to know that he once compared the experience to working at a Starbucks. Tom Hardy is not doing this movie.
Benedict Cumberbatch
The 37 year old Cumberbatch, who we tabbed for the role months ago, is also heavily in-demand, something that should only continue when people get a look at him in the upcoming Imitation Game, a potential Oscar player. He rose to prominence as pretty much the most British actor ever in film and television, becoming a fixture in critically-acclaimed work like 12 Years A Slave and August Osage County, as well as the BBC's Sherlock. He's also done the fanboy thing with Star Trek Into Darkness. And no offense to Hardy, who would be great simply because he's a chameleon, but Cumberbatch is a bit more classically regal and would bring a haughty charm to Strange.
But guess what? Dude's also busy as all hell. When he's not punching bad journalists, he's attached to Johnny Depp's Black Mass as well as action movie Blood Mountain and The Lost City Of Z. These would be sharp picks by Marvel a year ago, when these actors didn't have so many balls in the air. At this point, they'd better hope they have a long wishlist, because outside of cloning, it'll be very difficult to secure the services of either Hardy or Cumberbatch for this role.
Your Daily Blend of Entertainment News
Thank you for signing up to CinemaBlend. You will receive a verification email shortly.
There was a problem. Please refresh the page and try again.