Toy Story: See This Mom's Perfect Recreation Of Andy's Room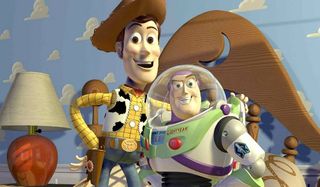 Toy Story is one of those movies that transcends age. The film franchise unites parents and kids alike with lighthearted stories about what the toys in your childhood bedrooms do when you leave the room. One mom proved that she not only loves the film but that her passion might even surpass that of her kids'.
Christy Bolin has three children, and it's apparent that this family loves Disney, as they've visited Frozen's Elsa and Anna at Disney World, and even had a Frozen-themed birthday party for her youngest, complete with Olaf cookies. But the Toy Story-themed bedroom Christy designed for her boys takes the cake.
As you can see through photos of her redecorating, she was able to recreate Andy's famous bedroom. There's the hand-painted clouds, the spaceship-themed bedspread, the army figures parachuting down from the ceiling, and Buzz Lightyear's "I Want You to Join the Space Rangers" poster. It even has toys of Woody, Buzz, Jessie, Slinky Dog, Rex, Ken and Barbie, and the squeaky shark poking his head of Andy's toy chest. There's nods to every installment of the Toy Story films, including the iconic Pixar ball. We don't think we've ever been so jealous of kids before, and doing so will make you want to watch the trilogy all over again. We wonder if the room has some hidden Easter eggs.
In an interview with Inquisitr, Christy said she had been collecting Toy Story memorabilia for several years. Though some belonged to her eldest son, she had to track down a few others on eBay, and she says she's always looking for more.
Christy also assures that this room will never be redecorated as long as she's living in the house, even when her youngest kids start thinking about going off to college. After all, Andy had this setup all through college, so she doesn't understand why her boys can't have the same.
Unfortunately for us, this makes the wait for Toy Story 4 that much more difficult.
Your Daily Blend of Entertainment News
Thank you for signing up to CinemaBlend. You will receive a verification email shortly.
There was a problem. Please refresh the page and try again.