New Trailer For Judy Moody And The NOT Bummer Summer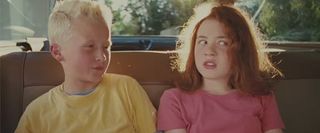 It's no secret in my circle of friends that I love kids movies. Not like Baby Einstein or any of those scary "teach kids stuff" education crap. I mean movies like Big Fat Liar or A Series of Unfortunate Events or even Harry Potter. I'm unapologetic about it. If it's about kids having fun the ways I used to twenty years ago, I'm interested.
Which is why I'm not ashamed to admit that this trailer for Judy Moody and the NOT Bummer Summer has me kind of excited. Judy seems like your average movie dork with a weird hair cut looking for an exciting way to make her summer NOT be a bummer. She devises a game to play with her friends in which they earn thrill points for doing stuff that's awesome like riding an elephant or catching Bigfoot. Judy finds herself, he brother Stink and her Aunt Opal on a quest to win the game by completing a slew of thrilling adventures. The trailer gets bogged down by a terrible girl pop rock song towards the end but generally looks like big fun.
It sounds really lame to most people born before the turn of the century, but to a 10-year-old kid it'll probably be their favorite movie until they're old enough to really start getting Pixar movies. Moody looks a lot like Diary of a Wimpy Kid, another kid's movie I thoroughly enjoyed, and is poised to capitalize on tomorrow's Wimpy sequel excitement when it hits in June. Scope out the trailer below or in glorious HD over at Yahoo! Movies.
Your Daily Blend of Entertainment News