New Trailer For The Lorax Is Grumpy And Hilarious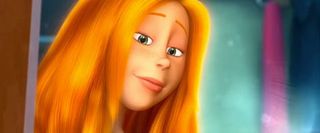 Dr. Seuss adaptations have been hit and miss on the big screen since How the Grinch Stole Christmas arrived in 2000. While that was an enjoyable film, it didn't exactly do gangbusters at the box office, and the follow up, 2003's The Cat in the Hat, barely made back its budget and critically flopped flat on its face.
Thankfully in 2008, Blue Sky Studios took over for Imagine Entertainment and churned out the hilarious and lovable Horton Hears a Who, ditching the bad body suits and opting to go the animation route. Staying on that course, Illumination Entertainment's The Lorax is looking better and better as it nears its March 2012 release. A new trailer has cropped up online and while it's a little tonally unstable, it still manages to be charming and funny. Check it out below.
The soundtrack provided by the Polyphonic Spree for some reason doesn't really work here, but beyond that The Lorax looks like it's going to be big fun. The classic story of boy meets girl, boy must impress girl, Zac Efron's Ted embarks on an adventure to bring the red-headed Audrey, Taylor Swift, a real Truffula tree in the hopes to win her heart.
The world looks well realized in the 3D space, not unlike Horton, and the Lorax, played by the almost as short Danny DeVito, is just as grumpy, if not grumpier than we remember from our childhood. It's great that Horton turned audiences around on Seuss adaptations. There's no more of that hesitation brought on by Cat in the Hat, so people are free to let their excitement rise as one of their favorite kids stories finds its way to the big screen. The Lorax hits theaters March 2, 2012.
Your Daily Blend of Entertainment News
Thank you for signing up to CinemaBlend. You will receive a verification email shortly.
There was a problem. Please refresh the page and try again.