New Transformers Animated Movie Is Coming, May Actually Be About Transformers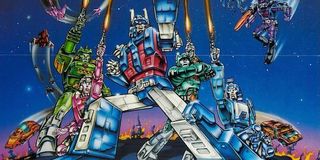 Despite less than stellar reviews for each of its four films (and that's putting it mildly), the Transformers franchise continues to trudge along thanks to staggering box office numbers. It's already been announced that Transformers 5 will be released in 2017, but the franchise has also has aims beyond live action. There is now an animated movie also in the works, one which may not have humans hogging the spotlight.
According to Deadline, Ant-Man script writers Andrew Barrer and Gabriel Ferrari have been recruited to work on an animated origin story that focuses on Cybertron, the home planet of the shape shifting robots. Although there have been numerous Transformers animated shows over the decades, this will be the first theatrical animated movie since 1986's The Transformers: The Movie. This new project was one of the results of a massive writers meeting where, over the course of two weeks, different creative talent pitched Transformers ideas to Steven Spielberg, Michael Bay, Paramount, Hasbro, and other head honchos.
In the Transformers mythology, Cybertron is the world where both the benevolent Autobots and malevolent Deceptions hail from. In the live action films, the planet died after a devastating war over the Allspark, which is the origin of all life on Cybertron. It's unclear whether this animated film will be set in the same universe as the live action films or if it will be its own entity. If it's the former, then we'll see firsthand the events that led to the planet's downfall, but if it's the latter, then any potential sequels to the animated movie would be free to go in any direction without worrying about continuity alignment. More importantly, however, is how this gives filmmakers an opportunity to tell a Transformers story with actual Transformers as the focus.
One of the common complaints about the live action films is that the human characters, be it Shia LaBeouf's Sam Witwicky or Mark Wahlberg's Cade Yeager, get way more attention than the robots themselves. Since this will be an origin story, than that means no humans will be showing up (barring some post credits-type scene that takes place on present day Earth). Not even the 1986 movie was able to do that. Instead of seeing humans interact with the Transformers, this film will see the Transformers in their original home without us pesky Earthlings getting in their way. Plus, since it's animated, this will also allow for more complex action sequences that would be much harder to accomplish with the CGI in the live action films
We'll keep you apprised on any developments surrounding this Transformers animated movie, but currently it's expected to be released following Transformers 5.
Your Daily Blend of Entertainment News
Connoisseur of Marvel, DC, Star Wars, John Wick, MonsterVerse and Doctor Who lore. He's aware he looks like Harry Potter and Clark Kent.