Tribeca Interview: Challenging Impossibility Directors Sanjay Rawal and Natabara Rollosson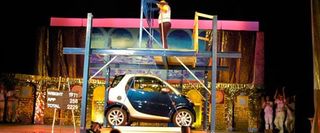 It's one thing for a man or woman in his or her prime to bulk up and take part in the sport of weightlifting, but a 54-year-old spiritual teacher? That's Sri Chinmoy for you, a man willing to push himself to the limits in order to show the world that anyone can reach their maximum potential.
Even though Chinmoy is no longer with us, his legacy certainly lives on and filmmakers Sanjay Rawal and Natabara Rollosson are doing their part to preserve his teachings as well. Their short documentary, Challenging Impossibility, uses archival footage as well as new interviews to tell the tale of how Chinmoy did the impossible, picking up an unusual hobby, excelling at it and continuing to wow and inspire the world lifting everything from weights to celebrities to elephants well into his 70s.
In honor of the film's premiere at the Tribeca Film Festival, Rawal and Rollosson sat down to tell us all about their personal experience working with Chinmoy and celebrating his accomplishments in Challenging Impossibility as well as the potential of developing their short into a longer form piece.
Your Daily Blend of Entertainment News
Staff Writer for CinemaBlend.
Your Daily Blend of Entertainment News
Thank you for signing up to CinemaBlend. You will receive a verification email shortly.
There was a problem. Please refresh the page and try again.