Tribeca Interview: Entre Nos Directors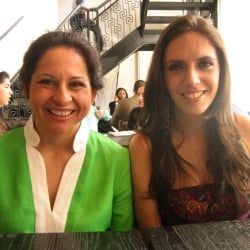 The best thing about the Tribeca Film Festival, for me, is always the chats with the unknown or first-time directors. Unlike stars doing the 10th junket for their summer blockbusters, the new directors seem genuinely excited to be doing press for their film, and anxious to get you to see it and tell all your friends about it and buy 100 tickets on opening night.
And while co-directors Paola Mendoza and Gloria La Morte weren't pushing opening night tickets into my hand (which I appreciated), they did give me a vivid sense of their deeply personal film, Entre Nos. How personal is it? Mendoza is actually playing her own mother, telling the story of what she did when she emigrated to the United States and unexpectedly found herself a single mother. "This is where I come from," Mendoza said. "This is my story, and I don't think that people who see me walking down the street would understand that I come from this story."
The film, which was finished just a few days before the festival began and was filmed in Queens, New York, follows single mom Mariana (Mendoza) and her children, as they collect cans in order to make a living and support themselves. Though the subject matter is dark, Mendoza said the goal is something more uplifting than that. "It's not an immigrant story. I'ts a story about hope and inspiration and love."
In the interview below, La Morte and Mendoza, who were experienced documentary filmmakers before taking on their first feature narrative, tell me about the lessons they learned on the set, and their plans to make it through their film's red carpet premiere on Saturday (hint: waterproof mascara). Check it out, and find tickets to Entre Nos here.
Your Daily Blend of Entertainment News
Staff Writer at CinemaBlend