Tribeca Interview: Struck By Lightning Director Brian Dannelly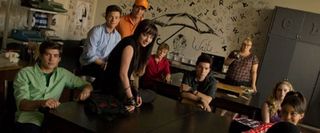 Not that there's anything wrong with the cast of Glee, but when you get a pitch that goes, "A kid from Glee wrote a script and I want you to read it," Saved! director Brian Dannelly's skepticism was certainly justifiable. After reading Chris Colfer's Struck By Lightning, Dannelly was certain nobody would make this movie – nobody except for him.
Colfer stars as Carson, the editor of the school paper, the head of the writing club and a resident of the bottom of the social ladder. He's determined to ditch his tiny hometown and unmotivated peers, and move to the big city to become the editor of The New Yorker. But before living the dream, Caron's got to get into Northwestern University and before he can do that, he's got to make himself stand out. Too many wannabe journalists are editors of their high school paper, so Carson's got to do something different; he wants to start up a school literary magazine. Trouble is, he can't even get his newspaper staff to submit articles, so there's no way he can get enough of the student body to participate in order to put together a sizable magazine. Good thing for blackmail!
Even though Carson can be totally unlikeable and happens to die in the beginning of the film, Dannelly found it quite appealing that Struck By Lightning was far more about the experience rather than the goal. With that in mind, Dannelly hit the ground running, tapping into his high school movie knowhow, assembling a top-notch cast with the ability to improvise, devising his shooting strategy and, ultimately, bringing Struck By Lightning to the Tribeca Film Festival. Hear all about it for yourself in the video interview below.
Your Daily Blend of Entertainment News
Staff Writer for CinemaBlend.
Your Daily Blend of Entertainment News
Thank you for signing up to CinemaBlend. You will receive a verification email shortly.
There was a problem. Please refresh the page and try again.