Twilight Stars Get Sequel Raises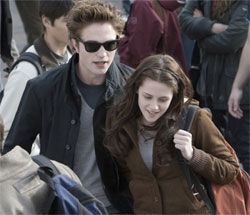 Now that Twilight's sequel is a lock, details on who will be involved in it and for how much are starting to emerge. According to Suntimes.com, the movie's two stars Robert Pattinson and Kristin Stewart are indeed signed to return, albeit with much bigger paychecks.
Pattinson and Stewart only earned $2 million apiece for Twilight. For the sequel, their dollar amount has been bumped up to $10 million. Welcome to stardom kids.
The return of director Catherine Hardwicke is less certain. She tells the AP that she doesn't want to rush into it. She says, "It's not like 'Friday, the 13th' or 'Halloween,' you can't just do it super fast and knock another one out." I wonder if she saw the first movie, because I got the distinct impression that this description sort of fits how that one came about.