Two Different Films Probably Want Emma Watson To Play The Exact Same Role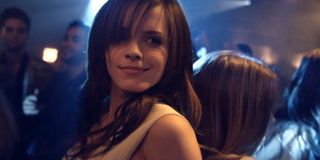 It looks as though Emma Watson has got some serious thinking to do. While the Harry Potter actress is currently attached to star in Warner Bros.' troubled Beauty and the Beast adaptation, the fact that Steven Chbosky has signed up to scribe Disney's own planned reworking of the classic fairy-tale now creates the interesting possibility that she could wind up moving to the competing project.
Watson has been attached to Warner Bros.' Beauty and the Beast for the last few months; however, after Guillermo del Toro pulled out of the project in June,Watson's own involvement in the film is no longer guaranteed (even though the studio is still planning to move forward with the project once it has confirmed a replacement director). Now that Disney's Beauty and the Beast has hired Stephen Chbosky as its writer, Entertainment Weekly has offered up the possibility that that Watson might decide to try and swap adaptations. Of course this hasn't been confirmed and is simply mere speculation at this point, but there exists a chance that Watson could wind up going to the Disney project.
Chbosky and Watson have previously worked together on Perks Of Being A Wallflower and the reportedly actress had a very close working relationship with the screenwriter - who wrote both the 1999 novel as well as the 2012 coming-of-age drama. In fact, Watson and Chbosky had already planned to work together once again on the adaptation of Adena Haplpern's While We're Young, until Fox decided that they weren't going to proceed with the film. Considering that Warner Bros.' Beauty and the Beast has stagnated over the summer months, Watson might just decide to go and work alongside her pal instead of waiting to see if the version she is currently attached to actually gets made. Surely that would be the sensible option, as she would then be part of a very similar project that has already started to make great stride towards production. Plus, if Disney is able to quickly produce a script, and then speedily assign a director to their Beauty and the Beast, then it might just force Warner Bros. to scrap their effort entirely.
The success of Angelina Jolie's Maleficent, which grossed the massively impressive sum of more than $740million internationlly, has proven to the company that there is great money to be made in re-imagined, modern adaptations of their classic films. However, squeezing Watson into any of these projects looks like it would be quite an accomplishment at the moment. Not only is she helping to promote her new gender equality project in her role as the Goodwill Ambassador for U.N. Women, but the 24-year-old recently signed on to La-La Land, the new indie musical that is set in Los Angeles, and comes from the mind of Damien Chazelle (who has caused quite a stir with his rather magnificent Whiplash). This is in addition to the fact that earlier this week it was announced that she will star opposite Daniel Bruhl in Colonia too. It must be nice to be so popular.
Your Daily Blend of Entertainment News
Thank you for signing up to CinemaBlend. You will receive a verification email shortly.
There was a problem. Please refresh the page and try again.