Watch Emma Watson's Beautiful He For She Speech, Read The Positive Celebrity Reactions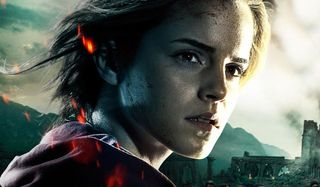 Hermione Granger has become a real-life hero. More specifically, Harry Potter star Emma Watson stood before the United Nations in New York City as a UN Women Global Goodwill Ambassador to deliver a speech about gender equality. This was the launch of He For She, an initiative that calls men to join with women to fight gender discrimination in all its forms. And already she's finding famous fellows for this fight.
She shared the speech with the web via, Twitter.
"I want men to take up this mantle so their daughters, sisters and mothers can be free from prejudice but also so their sons have permission to be vulnerable and human, too and in doing so, be a more true and complete version of themselves," Watson told those assembled.
From there, the support came fast and from all corners. Shaun of the Dead's Simon Pegg declared himself a husband, father, son as well as He for She.
God to geeks, Neil Gaiman and his wife Amanda Palmer proudly stood for feminism with this tweet:
James Van Der Beek weighed in with a pair of tweets.
Game of Thrones' Arya Stark Maisie Williams offered a simple thanks to her sister in fantasy.
Parks And Recreation's Rashida Jones cheered for Watson too:
As did The Hunger Games: Mockingjay -- Part 1's Jeffrey Wright:
And Forest Whitaker:
And Watson's Noah co-star Douglas Booth:
Learn more about He For She here. Or share a pic of yourself with Watson by using the hashtag #heforshe
Staff writer at CinemaBlend.
Your Daily Blend of Entertainment News
Thank you for signing up to CinemaBlend. You will receive a verification email shortly.
There was a problem. Please refresh the page and try again.