UPDATE: Will Angelina Jolie Be The Next To Try Playing Marilyn Monroe?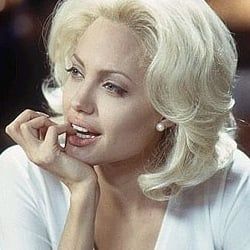 UPDATE: The short answer? No. THR is reporting that reps for both Jolie and Clooney have flatly denied O'Hagan's statements. Wishful thinking, I suppose.
It's a slow time of year for actual movie news, so it's a good thing the British newspapers have stepped in with their usual practice of casting "announcements" that will never, ever be true. Today it's The Telegraph, which is claiming that Angelina Jolie will play Marilyn Monroe in an adaptation of the novel The Life and Opinions of Maf the Dog, and of His Friend Marilyn Monroe, a chronicle of the last two years of Monroe's life told from the perspective of her dog.
As if that weren't enough, George Clooney is apparently set to star as Frank Sinatra, who gave Monroe the dog in 1960. To be fair, the news apparently comes from the book's author Andrew O'Hagan, though he's not quoted and there's no explanation of where he's getting his info from. With Michelle Williams playing Marilyn in one film and Naomi Watts going for it in another, it's never been more popular for A-list actresses to try their hand at imitating another. Does that mean Angelina will be the next do it? It's possible that O'Hagan's got his story straight, but I'm not betting on it until it shows up somewhere other than those delightfully unreliable Brit tabloids.
Your Daily Blend of Entertainment News
Staff Writer at CinemaBlend