UPDATED: Malin Akerman And Jim Sturgess Not Going For Romance In Wildwood Inn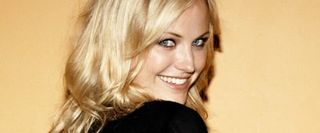 UPDATE: Sturgess's reps have gotten in touch with us to confirmed he's not attached at all. No word on whether the Akerman information is false as well, but we'll let you know when we learn more actual details.
Malin Akerman and Jim Sturgess, both actors known primarily for being attractive more than their actual talent, were in two movies recently in theaters that showed off their genuine acting chops. Akerman currently stars in the fluffy comedy happythankyoumoreplease, showing off surprising depth in an ensemble cast that's mostly pretty shallow, and Sturgess starred in Peter Weir's epic The Way Back, leading with quiet force a cast that included Ed Harris, Colin Farrell and Saoirse Ronan-- no easy feat. In the last few months Akerman and Sturgess have proved that they're far more talented than we might have given them credit for previously, and now the two will be starring together in a film to hopefully prove it again.
According to Bleeding Cool, the two will enjoy some unlikely romance in Wildwood Inn, which will be the directorial debut of actor Christopher McDonald (known as Shooter McGavin Happy Gilmore among many, many other screen roles). The story takes on the somewhat preposterous plot of two couples visiting the same vacation home at different times, learning about each other through the guest book in which everyone writes notes about how much they loved the place, and eventually falling in love with the other partners in the couple. It sounds complicated ,but then again The Lake House-- which involved time travel-- was a hit, so who am I to judge.
No word on who the other halves of the couple will be, or even if Akerman and Sturgess will play an unhappy pair or will fall in love themselves. But for all the people who may doubt the two of them, I'll be looking forward to what they might bring to the screen together.
Your Daily Blend of Entertainment News
Staff Writer at CinemaBlend