This Ugly Guardians Of The Galaxy Sweater Will Improve Your Christmas By 12%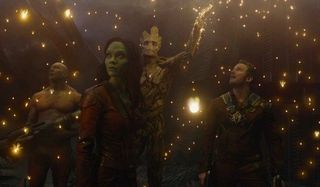 Did you like Guardians Of The Galaxy? Of course you did. It was superb. How do you feel about Christmas? Of course you love it. It's amazing. That being said, you'd think that the two colliding together would have produced something better than this rather unflattering sweater then, wouldn't you?
Actually, that's a tad harsh. There's plenty to love about the sweater, which you can purchase from Tee Fury (opens in new tab) now for $25. Not only does it feature adorably miniature and cartoony versions of Gamora, Rocket Raccoon, Star-Lord, Drax the Destroyer and Groot, but for some unknown reason a snowman decides to join them. This just makes us think, what if Frozen's Olaf were to join up with the intergalactic heroes?! Now that would be a crossover movie that we would all love to see! In fact, you heard it here first: Olaf will definitely appear in Guardians Of The Galaxy 2! (Disclaimer: Olaf probably won't appear in Guardians Of The Galaxy 2).
In addition to the team lineup, there is also a lovely little nod to Peter Quill's abduction from Earth in the 1980s, as well as an homage to his Awesome Mix Vol. 1 too. In fact, the humungous cassette in the center of the sweater really pulls the whole thing together. There are also a number of planets, stars, comets etc, just to fill space and remind people that the sweater was inspired by James Gunn's sci-fi space opera blockbuster. You can see the full thing, modeled by a pair of attractive people, below:
Nice as this sweater is, I'm still not entirely convinced to buy this sweater for myself - especially when you consider the myriad of other Guardians Of The Galaxy gifts that have now started to populate stores ahead of Christmas. I mean if you're looking for a present for a true die-hard of the film then you really can't go wrong with a dancing Groot figure. Dozens of replica baby Groots have been popping up across the web, and each one of them is special in their own way.
If that doesn't float your boat, either, there's plenty more stuff out there. Whether you want to go out and buy something or make your own, there are literally hundreds of Guardians of the Galaxy gifts out there for you to consider - and the Ugly Christmas sweater is just one of them.
Your Daily Blend of Entertainment News
Thank you for signing up to CinemaBlend. You will receive a verification email shortly.
There was a problem. Please refresh the page and try again.