Underrated Halloween Classic Trick 'R Treat Is Finally Getting A Sequel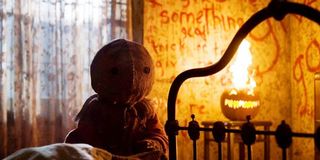 Trick 'r Treat, the brilliant horror anthology by Michael Dougherty, will be getting a sequel, and all thanks to you guys and ghouls who made it a cult sensation. Reporting from a special screening of the 2009 straight-to-DVD release at Los Angeles' Beyond Fest, EW reveals Legendary Pictures will back Trick 'r Treat 2, which will usher in the return of Sam, the creepy child mascot of Halloween.
Those who have discovered the gory glory of Trick 'r Treat know it's insane that the film never got a theatrical release, despite building buzz at film festivals like Butt-Numb-A-Thon, After Dark Horrorfest, and Fantastic Fest. But on DVD the movie found a new life and an audience hungry for its devilish brand of horror. In an intriguing interview, Dougherty told EW he'd always hoped to spin the first film into a franchise, but his hopes would have been dashed were it not for the fans. "I just want to say thank you to the fans," Dougherty said. "This is a sequel which is definitely being made because of fan demand, and because of word of mouth, which has been building for years. It's not a sequel that's just being rushed out because the movie had a big opening weekend. This is a sequel that people actually want, which I think is a rarity. I'm just eternally grateful for the fans for the constant, constant support."
He credits the recurring love the film received online to its franchise resurrection. "I think that momentum just started to build to the point where it was deafening," Dougherty explained, "And I think Legendary finally heard it too. Legendary's always been a big supporter of the film. They've been tracking fans rise in popularity, and I think this was the year we finally reached that peak, and they realized the sequel was necessary."
The original film was a series of vignettes that take place on a modern-day suburban Halloween with each cast of characters learning a valuable lesson about how to survive this tricky holiday. But for its next installment Dougherty notes the film series could go to new settings. With time and space as their plaything, Sam and Dougherty could definitely create all kinds of marvelous mayhem. But without a script ready to go, the writer-director is still a ways off from completing Trick 'r Treat 2, and so for now is playing coy about what fans should expect outside of the return of Sam and a continuation of the anthology format. He tells EW:
With Halloween coming up, there's really not better news horror fans could get this week. Here's hoping Legendary gives Dougherty the backing he needs to create something as stupendous and spooky as the first Trick 'r Treat.
In case you're not familiar with Sam, here's an animated short of his first adventure:
You can watch the Q&A where the announcement was made below:
Staff writer at CinemaBlend.
Your Daily Blend of Entertainment News
Thank you for signing up to CinemaBlend. You will receive a verification email shortly.
There was a problem. Please refresh the page and try again.