Vin Diesel Says The Last Witch Hunter 2 Definitely Is Happening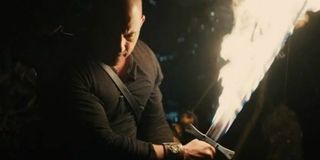 We've only received a peek of The Last Witch Hunter, the supernatural action film starring Vin Diesel as an ageless warrior against these magic-wielding shitheads. However, the studio is apparently so enthralled by the franchise, it's potential and their leading man that they are already developing The Last Witch Hunter 2… at least according to the Diesel.
In typical Diesel fashion, the Furious 7 star made this announcement on his ever-popular Facebook page, amid the Photoshopped ethereal images of him standing in the warming embrace of an elephant's trunk. (I'm not kidding.) As he wrote, The Last Witch Hunter doesn't even hit theaters until October 23, but Universal wants him "to commit and already block out the time to film [the sequel]." Though it may seem shocking, Diesel's star power should not be underestimated. Although the actor's popularity went through a rough patch around the early days of Riddick, he has since revived his fanbase into a diehard following. He rode his latest film, the seventh Fast & Furious movie, to box-office glory. (Though, to be fair, there was a lot more than Diesel's presence drawing moviegoers to the theaters.) Still, the studio will pretty much let this guy star in whatever he damn well pleases if he continues to make bank for them.
The Last Witch Hunter features Diesel as Kaulder, an ancient witch hunter who slew the Queen of the Witches in medieval times. With her dying breath, the enchantress cursed him with immortality, so that he may never reunite with his loved ones in the afterlife. Now, having lived all the way up through modern times, he is the last of his kind, which sucks for him as the witches are surging to unleash the Black Plague upon mankind. The film features a supporting cast that includes Rose Leslie (Game of Thrones' Ygritte), Elijah Wood and Michael Caine. Watch the trailer below.
Even though this is only an 80-second look and each scene is taken out of context, it seems like your typical over-the-top Diesel performance. In other words, get ready for way more self-referential lines like, "You will be hunted," and more scenes of the actor going all fast and furious with a flaming sword. On the bright side, the special effects look great in the trailer. So perhaps we shouldn't just a movie on its trailer. This franchise is also going to be around for a long time, so we better get used to it.
Your Daily Blend of Entertainment News
Your Daily Blend of Entertainment News
Thank you for signing up to CinemaBlend. You will receive a verification email shortly.
There was a problem. Please refresh the page and try again.