Vin Diesel Shares Pics Of Paul Walker's Brothers On The Fast 7 Set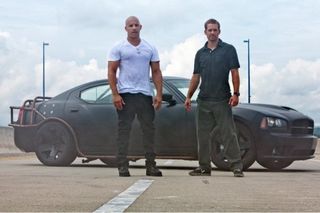 Fast & Furious 7 is finally back on track, having been delayed and nearly derailed by the unexpected and tragic death of one of its stars, Paul Walker. We've previously reported that director James Wan would be able to finish the film thanks to the help of Walker's real-life family, and now we have photographic proof of how this might work, thanks to Vin Diesel.
Thankfully, Diesel is a big over-sharer on Facebook, sharing movie news as casually as fan art or semi-regular affirmations. His latest share is a picture with him and Walkers' brothers, Caleb and Cody. With Fast & Furious 7 back in production, Diesel offered up this heartwarming photo to fans, along with the following caption:
We first head rumors of Walker family involvement last December, when it was first rumored that Cody was in talks to join the film to take over the role of Brian O'Conner for his late brother. Notably, Fast & Furious 7 will not mark the screen debut of either brother. Caleb made his first film appearance in a 2012 short called "The Ultimate Sacrifice," which co-starred Dan Aykroyd. Fast & Furious 7 will be his first feature film, but not Cody's, as he previously appeared in the horror-adventure Abandoned Mine. You can check out that pic's trailer below:
After Walked died in a car accident during a break in Fast & Furious 7's initial shooting schedule last November, the film's makers were in a tough spot. With Fast & Furious 6 being a worldwide hit with over $788 million at the box office, no studio head in their right mind would let the sequel drop. But how do you carry on when one of the franchise's original stars, not only dies during the film's production (though not on the film's production), but also dies in a way that might have happened in the high-octane, car chase-packed film series? It wasn't just a matter of CGI versus brother body doubles. It was also a matter of how to write Walker's role out of the series in a way that would please fans and be respectful to his memory.
Universal admitted they'd retire Walker's character in Fast & Furious 7, and there was suggestion and speculation that Brian might ride off into the sunset instead of being killed onscreen which might force Walker's fans to remember and in some sense relive the tragedy of his actual death. But I was one of the franchise's fans who has been supporting that Brian must die, because it's the only way he'd split from Dom and the crew for good. They are a family, after all, and family does whatever it takes to help each other.
This theme in the films is now being reflected in the making of the seventh installment, which is beautiful and bittersweet. It must be difficult for everyone on that set to carry on production without Paul Walker. But there must be a deep sense of healing going on to complete his final film with a mix of his onscreen family, real-life friends, and real-life family. Something tells me no matter how the producers have opted to end Brian's run in Fast & Furious 7, this will be a movie that will make fans tear up.
Staff writer at CinemaBlend.
Your Daily Blend of Entertainment News
Thank you for signing up to CinemaBlend. You will receive a verification email shortly.
There was a problem. Please refresh the page and try again.