Virginia Madsen Dispensing Motherly Advice To Red Riding Hood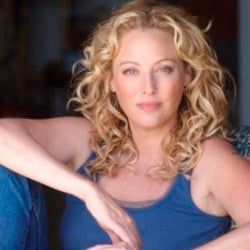 Virginia Madsen has suffered some truly ridiculous roles since her Oscar nomination for Sideways back in 2006-- The Haunting in Connecticut, The Number 23, must we keep going?-- but working with Catherine Hardwicke, of all people, may offer a chance to turn things around. Variety reports that Madsen has been cast as the mother of Amanda Seyfried's character in Red Riding Hood, which is a sort of gothic/punk remaining of the classic Grimm Brothers tale.
it's unclear how big the mother role might be, but given that the story is being given a romantic twist, you have to assume mom would have at least a little advice for Little Red. Shiloh Fernandez, Max Irons Lukas Haas, Julie Christie and Gary Oldman are rounding out the cast of this one, which is scheduled for release in March 11, 2011. It will be Hardwicke's first film since Twilight, and you can bet Warner Bros. is counting on some serious crossover audience. Virginia Madsen, prepare to start courting the Twihards.
Your Daily Blend of Entertainment News
Staff Writer at CinemaBlend