This New Voldemort Toy Makes Him Look Like The Least Intimidating Supervillain Ever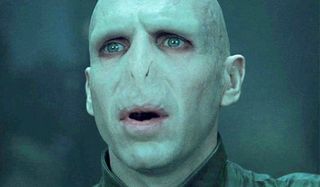 While it is undoubtedly by design, the recently unveiled Harry Potter toys from Funko's Pop! Vinyl line are giving us some uncharacteristic takes on classic Potter series spell-casters. One, in particular, depicting the villainous Voldemort shows a rather…unthreatening, dare we say…cute look for the rogue wizard whose very name was once a curse amongst those of the wizarding ilk. What sort of sinister subversion could be at play with this cutsie killer?
The brand new reveals come as an exclusive from MTV news. The Pop! Vinyl figures are a line of 3.75" figures rendered in an aesthetically adorable, big-headed, button-eyed style with an unimaginably eclectic amount of properties that would surprise the layman who would dare break out the dreaded "f-word," calling them, "figurines." Whether it's children's Disney properties, classic Hollywood blockbusters, popular video game characters, murderous horror movie icons, to mature TV hits like Breaking Bad and The Walking Dead, the idea of Harry Potter making the list certainly no surprise.
This rendition of Voldemort almost seems remind us of some kind of titular character in a hokey, yet inspiring movie about a kid befriending a little alien, while angry, ignorant adults who "don't understand" chase them about town, famously known for a breathtaking scene in a flying bicycle set against the backdrop of freakishly large moon. (I think Steven Spielberg did one of those back in '82. --What was it called again?) Yet, his slightly furrowed brow, coupled with his wide open arms while clutching his wand just screams, "hug me, my childhood hurts!"
As we can also see, Severus Snape is present in this bunch, with his left hand clutching his robe, all dignified as he prepares for more Dark Arts-powered pedagoguery, while ensuring via his Lily Potter Tumblr page that his title as reigning "All-Time King of the Friend Zone" remains intact. According to the MTV report, Harry, Ron, Hermione, Dumbledore and Hagrid are also lined up for their own Pop! Vinyls.
The exploits of Harry Potter might have sung its swan song in 2011 when Harry Potter and the Deathly Hallows: Part 2 saw Voldemort's horcrux 1-Up's go up in flames, before he himself would disintegrate like a hunk of paper mache in a wind tunnel being scatted into floating particles. (Yeah, that same cute little figure guy. Bet you're sad now, huh?) However, the wizarding world is not going anywhere anytime soon with the upcoming prequel/spinoff, Fantastic Beasts and Where to Find Them still in the works, with casting for the new protagonist, the famous "magizoologist," Newt Scamander currently underway. With repertory Potter director, David Yates set to retake the helm, a costly trip to Orlando to visit Universal's The Wizarding World of Harry Potter will soon not be the only way you can get your fix of J.K. Rowlings' Potterverse.
Fantastic Beasts and Where To Find Them is currently scheduled to hit theaters with a supernatural zoological curiosity that puts Ash Ketchum to shame on November 18, 2016.
Your Daily Blend of Entertainment News