Voltron Movie Announced, This Time It's For Real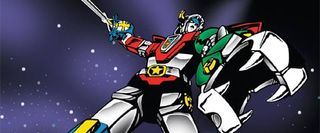 When the first live-action Transformers movie broke out and made millions at the box office, there was a sudden rush to make movies about giant fighting robots. For awhile that meant there were several different efforts underway to turn the classic animated series Voltron: Defender of the Universe into a feature film, but nothing ever came of it. Now they're trying again.
Relativity Media, the company behind such upcoming movies as Immortals and The Raven just informed us they're teaming up with Atlas Entertainment to bring Voltron to the big screen.
The original show, based on a series of Japanese anime properties, was big in kid's programming back in 1984. It involved a team of five young warriors who drive robot lions which can connect together to form one giant, humanoid, fighting robot named "Voltron". Remember Power Rangers? It's basically that except set in a dystopian future.
In recent years the show has returned to the airwaves with a new Voltron Force series on Nickelodeon. If you have kids, maybe you noticed. The show still has a big fanbase, but if I were Relativity I'd be more excited about the toy sales possibilites if they actually get this off the ground. Back in 1984 the Voltron toys were much lusted after. I never could convince my parents to buy them, but my cousin had all five lions and whenever I went over to his house, formed them up into Voltron as if to taunt me. Ok he probably wasn't really taunting me, but those goddamn robots still haunt me. I need that toy, like, now.
The live action film is slated to be produced by Atlas Entertainment's Charles Roven (who worked on The Dark Knight) among others. They've hired Thomas Dean Donnelly, who wrote the Conan remake script, to write it along with Josh Oppenheimer.
Before you get too excited, remember this is at least the fourth time in the past ten years someone has tried to make a movie out of Voltron, and somehow it's never actually gotten done. There have been other scripts and other producers, nothing ever came of them. Hopefully this production will fare better.
Your Daily Blend of Entertainment News