Wait, Is Scarlet Witch Going To Be In Avengers: Infinity War?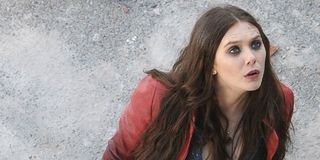 As the Marvel Cinematic Universe rolls into Phase 3 of its franchise, we have been introduced to a whole slew of new and exciting characters to follow on the New Avengers' journey. Among them, Elizabeth Olsen's Scarlet Witch a.k.a. Wanda Maximoff holds the trophy for one of the more powerful individuals to join the team, but while we do know we'll see Scarlet Witch choose a side (or none at all) in Captain America: Civil War there hasn't been much word on her involvement further down the line. And as it turns out, Elizabeth Olsen hasn't heard anything about her future in the franchise, particularly if she'll show up in Avengers: Infinity War.
Elizabeth Olsen was attending the Toronto International Film Festival for the release of her film I Saw the Light when prompted on the future of her Marvel character. Olsen, while playing up her excitement for the next film in the franchise, also admitted that she really does know where she lies after that film ends. She told Collider:
The group of people Olsen refers to are most likely her agent, manager, and other friends and family who would love to see Scarlet Witch take on Thanos just as much as her fans. But alas, Marvel loves to be just as secretive about their future to their actors as much as they do their film goers. It's much easier to keep hush about what's to come when less people actually know the plan.
At the same film festival a couple weeks ago, Olsen was also asked whether or not she'd want to lead a standalone Scarlet Witch film. The actress, while exclaiming her love for her character, just really couldn't see how a solo film would fit into the way the Marvel universe is headed. Also, considering Avengers: Age of Ultron explored the past of Wanda Maximoff and her brother, we've already gotten a glimpse at their origin stories. And unless Marvel decided to go back in time, it wouldn't make as much sense to have a solo Scarlet Witch film now that her brother has passed away.
But Olsen's obscure reference to the end of Captain America: Civil War certainly seems to play up her lack of knowledge when it comes to Scarlet Witch's future. Could the end of the film take a bleak turn for the character? Or does Olsen really not know the the final decision for the film's ending?
We're just going to have to wait and see where Captain America: Civil War leaves off the story of Scarlet Witch. Olsen certainly is not the only Marvel actor unaware of his or her future, though. Just a few days ago, Tom Hiddleston was asked a similar question on the state of Loki's future in the franchise, to which the actor sincerely had no idea. Clearly, even though Marvel has set in stone its premiere dates for the next few years, they've still got a ways to go in sharing any details with their actors.
Your Daily Blend of Entertainment News