Why Scarlet Witch Is Civil War's Wild Card, According To Elizabeth Olsen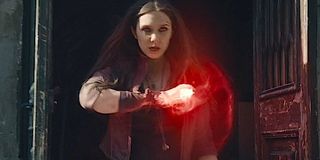 It's no secret that Captain America: Civil War has become one of the most hotly anticipated blockbusters of the coming year. With the heroes of the Marvel Cinematic Universe set to face off head-to-head, everyone has begun analyzing who will end up on whose side – much of the early marketing has already been predicated on those debates. While some of the alliances – such as Captain America (Chris Evans) and Falcon (Anthony Mackie) – are obvious from the get-go, the sides chosen by other Avengers has proven far less black and white. Elizabeth Olsen's Scarlet Witch has proven to be just that.
According to MTV News, the actress revealed that her character would be the "wild card" of the films titular civil war. Elizabeth Olsen opened up about where her character will be when the next installment picks up:
Last month, Jeremy Renner released several promotional images on his Twitter account, teasing the teams that will face off in the upcoming film – featuring both longtime Avengers as well as newcomers to the franchise. However, Scarlet Witch has appeared in very little – if any -- of the promotional material released for the film thus far, alluding to her own ambiguous leanings.
Olsen elaborated on this idea, stating that while Scarlet Witch has begun to recover from the devastating loss she suffered last time we saw her, the tough emotional state the character finds herself in during the aftermath of Avengers: Age of Ultron lends to the character's desire to stray away from the limelight of this epic battle.
Out of any Marvel character, having Scarlet Witch as the wild card of the proceedings makes the most sense. She has only recently joined The Avengers, and has not had enough screen time with Captain America or Tony Stark to really make us truly believe that she would have the conviction to join either faction. She also made an objectively bad call by siding with Ultron at the beginning of her last appearance, and as such her desire to stay out of direct conflict with any of The Avengers seems like a logical call for her character.
It also makes even more sense when we consider that while Marvel Studios cannot use the term "mutant" in their films -- that is essentially what she is. In the Civil War story arc, a number of panels were dedicated to explaining that the mutants intended to stay out of conflict between the pro and anti superhuman registration factions. Due to the – frankly terrible – legal constraints that prevent the X-Men from getting involved in a Marvel Studios production, Scarlet Witch could likely act as a surrogate voice for the X-Men in Mark Millar's graphic novel.
So far, everything we have seen regarding the showdown that will be Captain America: Civil War has added to the belief that the film will focus solely on warring factions. Scarlet Witch's status as a "wild card" excites us because it promises added moral complexity to the conflict as a whole. We will just have to wait and see whom she ultimately sides with when Captain America: Civil War hits theaters on May 6 of next year.
Your Daily Blend of Entertainment News
Originally from Connecticut, Conner grew up in San Diego and graduated from Chapman University in 2014. He now lives in Los Angeles working in and around the entertainment industry and can mostly be found binging horror movies and chugging coffee.