Nora Ephron Documentary Headed For HBO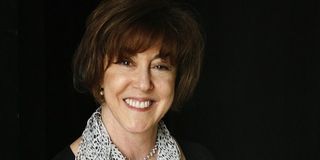 Legendary writer and director Nora Ephron's story is headed for the small screen. As the one-year anniversary of her death approaches, HBO is developing a documentary with her son, Jacob Bernstein, that will look at her career, as well as her private life.
Ephron, who is best known for romantic comedies like Sleepless in Seattle and When Harry Met Sally, succumbed to complications from a quiet battle with leukemia, leaving Hollywood and the world saddened. Now, THR says HBO will celebrate her life with an intimate portrait of the woman who brought viewers so many timeless and enduring films, but also offered much more, including writing bestselling novels and working in the White House during Kennedy's presidency. Hers is definitely a life worthy of a documentary, and with Ephron's son working on the endeavor, audiences are likely to get an accurate portrayal of her work and private life.
Bernstein will direct and co-produce the documentary, which currently is using the working title Everything is Copy. It will be co-directed by Nick Hooker, and executive produced by Vanity Fair editor Graydon Carter, who previously worked on HBO's Jerry Weintraub documentary, His Way. Also producing are Matt Parker and Carly Hugo.
While HBO prepares to celebrate Ephron's life and give us a glimpse into the woman behind some of our favorite rom-coms, Tom Hanks has recently hit the Broadway stage, alongside several other big names for Ephron's play (yes, she was a playwright too), Lucky Guy. Even without a documentary, Nora Ephron is unlikely to be forgotten anytime soon. I admit I don't know a lot about her beyond her work, so it will be interesting to see a fuller glimpse at her life.
Your Daily Blend of Entertainment News