Warcraft's Costumes Look Wonderful, See The Comic-Con Greatness Here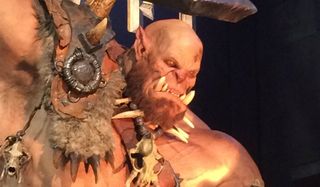 DC has Batman v Superman, Marvel has Captain America v Iron Man, but Legendary as the Horde v the Alliance. Duncan Jones' Warcraft movie came out for San Diego Comic-Con in full force, and they actually showed off their armed forces. Check out some of the photos we snapped of the new characters, glistening armor and imposing weapons that will be populating the fantasy epic.
The characters of Warcraft will fight for either the Horde, comprised of the vicious orcs and fueled by dark mojo, or the Alliance, the side of men and magic. Both teams were the forefront of Legendary's presence on the exhibition floor at Comic-Con. The Alliance is led by King Llane Wrynn, who's played by Dominic Cooper. His emblem is the lion, which is adorned in some way on all of his armor and weapons, and that of his warriors, as well.
Wrynn is like a Lannister of Casterly Rock, but he's not a total dick. Legendary describes him as the leader of the city of Stormwind and he's a beacon of hope for his people.
Elsewhere, a gargantuan statue of the orc leader Orgrim Doomhammer put the smackdown on a bunch of unsuspecting Comic-Con revelers. Robert Krazinsky — he was Warlow in True Blood and that bad boy Jaeger pilot in Pacific Rim — portrays this character, and fans got a first look at him a couple months ago through some official photos. Trust us, he's a lot more menacing when you think he's about to flatten you into a pancake.
Funny enough, he's not actually the leader of the Horde. That role goes to a guy named Durotan, played by Toby Kebbell (our new Doctor Doom in Fantastic Four). Orgrim is his righthand man and he's destined to wield the Doomhammer.
These folks are just two among a cast of many. Though sneak peeks weren't on display during the big Preview Night at Comic-Con, there's Ben Foster playing a mage named Medivh, Paula Patton playing a warrior and survivor named Garona (not to be confused with Gamora from Guardians of the Galaxy), Travis Fimmel as a war hero by the name of Anduin, and Clancy Brown as Blackhand, "The Destroyer." The studio will be promoting this film all throughout Comic-Con with a special panel on Saturday, July 11. So stay tuned for more updates as the Con goes on.
Your Daily Blend of Entertainment News
Thank you for signing up to CinemaBlend. You will receive a verification email shortly.
There was a problem. Please refresh the page and try again.