Watch A 5-Minute Conversation Centered Entirely Around Judd Apatow's Penis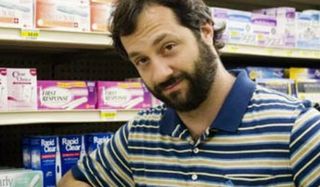 How long could you talk about someone else's penis for? Even if you have many different questions, topics and sub-topics about a certain male appendage, by the second minute everyone involved will most likely want the conversation to end so that they can immediately go off and shower. That's not the case for Andy Samberg, Jorma Taccone and Akiva Schaffer. While they were out promoting Popstar Never Stop Never Stopping, they talked about Judd Apatow's penis, which makes a small appearance in their comedy, for five whole minutes during an interview.
Is anyone else now certain that they're going to hell? Me too. But before we go there let's breakdown the whole host of new information that we just learned in this Uproxx interview regarding the debut of Judd Apatow's penis in Popstar Never Stop Never Stopping.
Not only did Judd Apatow have to spend several hours shooting and repeatedly unveiling his manhood, but the Popstar crew also made sure to use a prosthetic penis, too, just in case it made any of the other actors in the scene uncomfortably. See, they are nice boys after all.
Meanwhile, co-writer and co-director Akiva Schaffer also admitted that Judd Apatow spent months sending the trio a variety of extravagant shots of his manhood in order to convince them to give him the part. This included Judd Apatow posing underwater, in a field of grass, in the city and even smashing his penis on glass, all to showcase its range as an actor.
Obviously it worked wonders, because last week, it was revealed that the uber-producer decided to drop his trousers and show the entire cinematic community what he was born with. We currently live in a very cynical world, though, and the interviewer wanted to make sure that it wasn't just some regular Joe's penis that was blazoned up on screen, but that it was in fact the Funny People, 40-Year-Old Virgin and Knocked Up director's wang.
Unfortunately, Akiva Schaffer, Jorma Taccone, and Andy Samberg refused to irrevocably, 100% confirm that it was, in fact, Judd Apatow's penis. Instead, they teased around the issue, heavily suggesting that it was without every categorically outing that it was his penis after all. Except for right at the end, where Andy Samberg blurted out that, yeah, it was Apatow's dick.
You can go and check out Judd Apatow's dick, as well as one of the funniest films of the year, now, because Popstar: Never Stop Never Stopping was released into cinemas today.
Your Daily Blend of Entertainment News