Watch All Of The Ice Age Short Film Scrat's Continental Crack-Up Online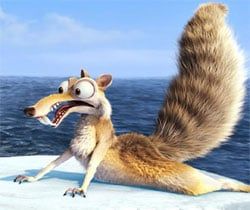 Odds are if you bought a ticket to Gulliver's Travels sometime in the past couple of weeks, the thing you remember most isn't Jack Black's movie, but the short film shown before it. Blue Sky Animation produced a new Ice Age short featuring that nut-hungry prehistoric squirrel Scrat and debuted it in front of Fox's Lillputian film.
The short is called Scrat's Continental Crack-Up, and now you don't actually need to see Gulliver's Travels in order to enjoy Scrat's latest doomed antics because the entire animated adventure is available online right now.
Watch it below or even better watch it in glorious Quicktime HD on Apple
Odd observation on the movie's end credits. Go back and hit the pause button on the frame listing "voice credits" and you'll see Simon Pegg's name listed among the three voice actors involved in this project. As pointed out by one of our commenters below, he's credited because the little guy who goes "yeehaaa" towards the beginning of the short is Buck, a character Pegg played in Ice Age: Dawn of the Dinosaurs.
I'm pretty sure this short film is the closest any Ice Age property has ever come to being genuinely educational. Ok, granted, the short does seem to mistakenly intimate that the faces on Mt. Rushmore and the Sphinx are some sort of naturally occurring phenomenon, but show this to your kids and they might actually learn something about the composition of the Earth's crust and even get some idea of how continents were formed. It's easy to imagine this being shown in some third grade classroom. Educate the next generation with cartoon violence. This can only end well. I approve.
Your Daily Blend of Entertainment News