Watch Captain America And Crossbones Fight In Leaked Civil War Set Video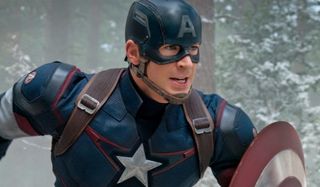 Hot off the heels of Avengers: Age of Ultron, production on Captain America: Civil War is in full swing. The cast and producers have been hard at work filming in various locations, and thanks to the power of social media, civilians have been able to capture some of the action. While there's a lot to look forward to in this adaptation of the famous comic book story arc, one Instagram user offers us a preview of Captain America's battle against the villainous Crossbones direct from the set.
Esteban (@estevandam on Instagram) posted a handful of videos to the photo- and video-sharing platform revealing a showdown between these two comic book characters. Chris Evans returns as Captain America, while Frank Grillo makes his debut as the Cap killer. Grillo recently posted a photo to Instagram of his fully costumed self, but now we get to see him exchange blows with the star-spangled Avenger.
By the looks of the setting, it seems as though this particular sequence takes place in Wakanda. The setting and vehicles are similar to the ones populating the Hulk vs. Hulkbuster scene in Age of Ultron, which took place in South Africa. Though, perhaps, Black Panther will be popping in to join the fight this time around. Chadwick Boseman will make his debut as the beloved superhero in Civil War, though he'll have motives that vary from the rest of the heroes.
Captain America: The Winter Soldier ended with Grillo's Brock Rumlow on a stretcher, having been buried beneath rubble from a collapsing building and bearing scars all over his body. In this film, he returns and is said to be the primary antagonist of the film. The official plot of Civil War references an international incident that involves Captain America and his new team of Avengers that prompts the governments of the world to unite and regulate all superhuman activity. It's likely that Crossbones is involved in this incident, though it's unclear if that's what we're seeing play out in Esteban's Instagram videos.
As Civil War continues filming for a May 6, 2016 release date, we're bound to see more leaked photos and videos of the new and returning characters. The film also features a cast that includes Robert Downey Jr.'s Iron Man, Scarlett Johansson's Black Widow, Elizabeth Olsen's Scarlet Witch, Paul Bettany's Vision, Anthony Mackie's Falcon, Don Cheadle's War Machine, Jeremy Renner's Hawkeye, Paul Rudd's Ant-Man and so much more.
Your Daily Blend of Entertainment News