Watch Chris Pratt Get Attacked By Dinos In Hysterical Jurassic World Prank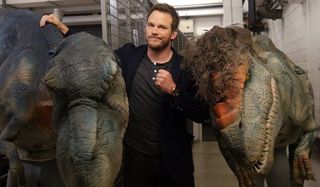 For the most part, Chris Pratt comes out on top during his battle with Jurassic World's vast array of critters. Yeah, he gets a few scrapes and bruises, but he also manages to give as good as he gets, while at the same time running just fast enough to survive. So it was probably about time the dinosaurs had their revenge on the affable actor, which is exactly what a Polish production company set-up. You can check out a video of Chris Pratt being scared by fake dinosaurs and still being charming below.
Even when he's being pranked, Chris Pratt just can't help but be sensational. The video comes courtesy of SA Wardega, which is the team behind the Mutant Giant Spider Dog YouTube hit, which has been watched over 143 million times since it was uploaded 9 months ago.
It's safe to say that they know what they're doing when it comes to creating viral content, which is probably why they decided to piggy-back on the monstrous financial success of Jurassic World with their latest prank. Actually, it's probably just lucky coincidence that Jurassic World smashed all of those box office records just a few days before SA Wardega uploaded their latest clip to the world. Sure, they knew Jurassic World would be successful, but no one dreamed it would take in such an eye-watering sum of money.
As per usual, Chris Pratt reacted to the threat of being mauled by two life-size dinosaurs, one of which possessed a ridiculous wig, in the sort of fashion that makes you think you could instantly become best friends with him. Yeah, he also dropped a few expletives along the way before, asking who had played the prank on him, but he also managed to remain effortlessly cool.
This isn't the first time that SA Wardega have pulled a Jurassic World themed prank on unknowing peeps. Earlier this month they also uploaded another clip that showed people stumbling upon the disgusting remains of mauled individuals before a dinosaur emerged. You can check out the clip below.
Jurassic World has proven to be a monumental hit at the box office. Not did it gross $500 million across the world in its opening weekend, but it's been received well enough by critics to prove that interest in the franchise is at a similar level to when Steven Spielberg originally introduced us to Isla Nublar 22-years ago. Let's just hope that it's inevitable sequels are better this time out.
Your Daily Blend of Entertainment News