Watch A Couple Get Busted Having Sex At Fifty Shades Of Grey Event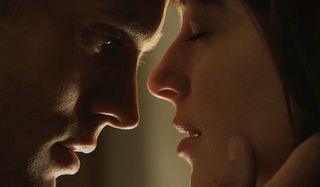 The continuing cinematic notoriety over Fifty Shades of Grey keeps managing to manifest itself in reports of bizarre behavior and public exhibitions that would leave someone to conclude that a good number of the global moviegoing public has never viewed a sex scene in a movie before. The pattern of inexplicable Fifty Shades-related behavior continues with the latest bit of ridiculousness involving some folks at a Las Vegas Valentine's Day exhibition themed towards the film, which somehow incited this classy couple to sneak away to a back room and engage in some public fornication.
As you can see in the video (courtesy of TMZ), this Las Vegas couple, already doing their best visually to reinforce the seedy, coin-operated vibrating bed stereotype of the lights-strewn city of chance, proactively decide that "sexy time" can't wait and proceed to sully the apparent sanctity of the "Erotic Heritage Museum." While the old interjection, "get a room" would seem as feasible advice as one could ever give in Vegas, these folks must have decided that "rooms" are for stuffy high rollers who sip martinis with extended pinky fingers and avoid ending sentences with prepositions.
Nope, it seems that the call of this Fifty Shades of Grey-themed exhibition sent signals that just couldn't be ignored by the wanton twosome and they decided to leave those suckers and their fancy "beds," "privacy," "sanitary conditions" and "basic public decorum" behind to wait for the staff to clear an area before sneaking off to do some "A Night at the Fifty Shades Museum" action. (A project that Ben Stiller might actually be convinced to take.) The museum, based in Sin City, was holding a Valentine's Day exhibit that honored all manor of kink... tied, naturally, to the release of Fifty Shades of Grey. While it seems that the libidinous launch was temporarily successful, it would appear that the act was anything but the perfect crime. Security cameras from any and all angles caught the entirety of the act, and soon enough, the staff was out in full force, chasing away, in their half-naked state, these perverted patrons… of the EROTIC Heritage Museum.
Seriously, what the hell is going on with people? Fifty Shades of Grey is just a movie…with sex scenes! When did this somehow become a captivating new concept? Granted, those romps of ribaldry are unorthodox to the conventions of wide-release films, but anyone with even a passing knowledge of cinematic history knows that it's hardly a groundbreaking achievement for on-screen sexuality. And that doesn't even scratch the surface of the pure depravity out there for free on the Internet. Perhaps, the psychological effect of the ubiquitous buzz surrounding the Fifty Shades phenomenon has seemingly unlocked some dormant proclivity amongst people to do unseemly and sometimes violent things. Were they so puritanical and malleable to begin with that some R-rated cinematic sex romp has somehow served as steroids to their repressed aggression?
Regardless, as the Fifty Shades of Grey publicity momentum starts to wind down, just as the box-office numbers have already done, we should hopefully hear a lot less of incidents like this. It should soon be safe to go to the movies again. (I'd still bring the Purell, though.)
Your Daily Blend of Entertainment News