Watch Creed's Lead Singer Review Creed, The Movie, In Hilarious New Video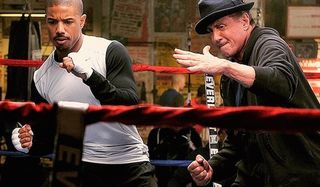 It's been a while since us mere mortals have seen Creed lead singer Scott Stapp out and about in the world of entertainment. After Creed's brief but momentous rise to the heights of late '90s and early 2000s rock and roll, the singer quickly disappeared from our radios like he'd gone into hiding. Now, though Stapp is using his former rock glory for good, as he turns his eye to reviewing the movie Creed for Funny or Die.
Scott Stapp Reviews 'Creed' from Funny Or Die
Oh, Scott Stapp, at least you realize that making fun of yourself is the best way to return to the limelight (sort of) and get back into our good graces. The idea that he's self-absorbed enough to watch all of Creed, the new Rocky spinoff, and think that it's actually about the "epic tale" of his band is one of the best notions from Funny or Die to come along lately.
It's no surprise that he thinks Michael B. Jordan was an "interesting choice" to play him in this supposed biopic, since, well, you know. Jordan's character, as Scott Stapp points out, is oddly named Creed instead of, apparently, being in a band named Creed. Well, wonders never cease. Stapp must be thinking, Just what kind of story about my band is this, anyway? And, considering the opinion he went into this with, that makes perfect sense. My favorite part of the video, though, might be the part where Stapp admits that when people do recognize him from his brief days of stardom they yell, "What's up, Creed?" like it's his name. This is bound to either make him feel grateful that they remember his band, or sort of terrible, since they don't actually recall the name of the guy that lead Creed to greatness.
Also great? Scott Stapp's admission that he once punched a guy from the band 311 and that the movie features "no epic guitar solos played on a mountaintop" and no singing on steep cliffs, even though those things are what really helped the band make their MTV mark. Actually, if you watch Creed's videos you'll see that they also favored slow motion stage diving, wife-beater tank tops, meteor strikes in open fields, playing in flooded streets, older gentlemen with severe cataracts, mermen and Eye of Sauron like towers of imposing mystery.
Scott Stapp goes on to note that his band never met Rocky Balboa (not that difficult to imagine, since he's a fictional character), that the movie includes an awful lot of boxing, and that he's not from Philadelphia, he's "from Creed." So, what's Stapp's final verdict of Creed the movie? His answer is a, rather confusing, four arms-wide-open. What kind of rating system is he using? I mean, really, what kind of scale is this on? Are we talking a total of five arms-wide-open? Or does the arms-wide-open scale go all the way to 10? I guess we'll never know. It's just like Stapp to leave us wondering.
Bachelor Nation, Gilmore Girl; will Vulcan nerve pinch pretty much anyone if prompted with cheese...Yes, even Jamie Fraser.
Your Daily Blend of Entertainment News
Thank you for signing up to CinemaBlend. You will receive a verification email shortly.
There was a problem. Please refresh the page and try again.