Watch How Insanely Awkward Filming A Hollywood Sex Scene Is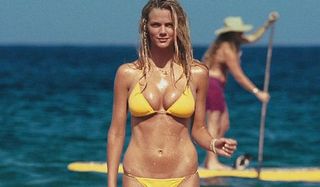 As demonstrated in this behind the scenes video from the set of Joe Carnahan's Stretch, the making of a movie's sex scene can be quite awkward. Be warned that this isn't safe for work!
It's always been assumed that filming a Hollywood sex scene is one of the most unpleasant experiences that two actors can go through. Most of the time they barely know the person who is clambering, sweating and prodding away at their body, and, just to make things that extra bit awkward, there are normally at least a dozen other strangers in the room staring down and judging their bedroom maneuvers. Director Joe Carnahan has now released a behind the scenes clip from his upcoming film, Stretch, that proves just how excruciating it was for Patrick Wilson and Brooklyn Decker when they filmed an intimate moment for the picture.
It's hard to know who to feel the most sorry for in the clip. Decker appears to be taking it all in her stride like a true professional, but you've got to assume that she would rather be anywhere else in the world, especially when she tells her co-star that she is just "lifting it" when she tries to fidget herself into position. It's clearly not a picnic for Wilson either, who has to be ready to jump into action and act like a rampant rabbit whenever Carnahan says so. And you can also kind of hear in Carnahan's voice just how insanely horrible the whole experience is for him too. Not only does he have to watch over every single second of their performances and then decipher if its worthy of his film, he also has to shout out such inspiring directional choices as "Great fucking", "Soft on her, ram right into it", "When you're looking at him you really want to engage. Don't let his eyes go," and, "when you're done give him a little back-pat." He even has to discuss with Wilson whether his character is the sort of guy who would tell her "when he's cumming."
To be fair, though, Carnahan is clearly trying to get the whole scene over and done with as quickly as possible. He promises the duo that he just wants one more take, while he's also deployed two cameras to get his shots simultaneously, played loud, incredibly funky music to distract everyone on-set, and apparently instructed the people working the cameras not to linger on their naked bodies in-between takes. Classy work.
Stretch has a pretty impressive ensemble, with Patrick Wilson, Brooklyn Decker, Chris Pine, Ed Helms, Jessica Alba, Norman Reedus, Ray Liotta, and James Badge Dale all starring. After the film's distribution was dropped by Universal Picture earlier this year, those involved took the unprecedented decision to release it via iTunes and Amazon. It will be available with both retailers tomorrow and will be getting a full VOD release on October 14th.
Your Daily Blend of Entertainment News
Your Daily Blend of Entertainment News
Thank you for signing up to CinemaBlend. You will receive a verification email shortly.
There was a problem. Please refresh the page and try again.