Watch J.J. Abrams Do The Twizzler Challenge With Chewbacca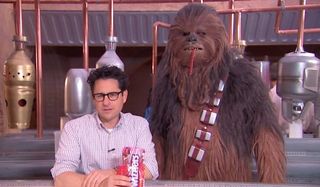 There's something called The Twizzler Challenge. It's a lot like the ALS Ice Bucket Challenge, but instead of promoting ALS awareness, it seeks to raise money for New York Collaborates for Autism, and instead of pouring ice water over your head, you have to eat a Twizzler with someone in the style of Lady and the Tramp. After Jimmy Kimmel did it with Rihanna on his late-night talk show — that lucky bastard — he challenged J.J. Abrams, but his was much more weird.
The Star Wars: The Force Awakens director completed the ALS Ice Bucket Challenge back when it was a thing, so why not The Twizzler Challenge? In selecting his partner, he went for one of the most lovable, loyal, kind-hearted and popular Star Wars characters he knows: Chewbacca. It's unclear if Peter Mayhew was the one in the suit or not, though I doubt it; it looked like he was still recovering from his surgery when he appeared at Star Wars Celebration. Perhaps his absence was a good thing, because what should have seemed funny to the Kimmel audience watching this clip was met with an awkward silence.
That seems to be the real issue with many of these videos: the inherent awkwardness that ensues, especially if the audience isn't all that into it. Kimmel got a nice round of applause when he did, but that was because Rihanna was there. When Lena Dunham did it with her Girls co-star Alison Williams, it was hard not to smile because the pair were having a blast. But there was just no chemistry between Abrams and Chewie, even after the big hairball went in for a hug afterwards. What got the crowd laughing, though, was the director pulling strands of hair out of his mouth. Like any good viral campaign, Abrams then had to nominate two people to accept the challenge next, and he chose Jennifer Aniston and Guillermo. Kimmel's righthand man was all too eager after receiving that good news. Hopefully the Kimmel crowd will appreciate that one a bit more.
According to New York Collaborates for Autism, Willie Geist and Meredith Vieira started The Twizzler Challenge after Geist performed it once with Uzo Aduba on Comedy Central's Night of Too Many Stars. All donations will go to the organization, which funds and creates schools, programs and services for people suffering from autism all over the country. If you want to follow in Abrams and Chewie's footsteps, you can complete the challenge by posting a video to social media with the hashtag #TwizzlerChallenge and #NYC4A. Perhaps this will be the next viral sensation.
Your Daily Blend of Entertainment News
Thank you for signing up to CinemaBlend. You will receive a verification email shortly.
There was a problem. Please refresh the page and try again.