The Only 5 Celebrity Ice Bucket Challenge Videos You Need To See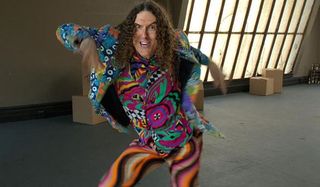 If you've been on Facebook or Twitter the past couple of weeks, you've likely been inundated by friends and family posting vids of the ALS Ice Bucket Challenge. Of course, celebs have been getting in on the game too. So we've rounded up our favorites of these vids, toasting those who made their charity driving a joy to us all.
The rules of the ALS Ice Bucket Challenge are essentially 1) Confess who nominated you 2) Dump a bucket of ice water over your head 3) Call out three people to take the challenge in the next 24 hours. 4) Donate money to The ALS Association, which is fighting to cure the world of Amyotrophic lateral sclerosis, A.K.A. Lou Gehrig's disease. Sources vary on whether dumping ice water on yourself excuses you from donating money, but it's a good cause. So regardless of the house rules, just do it if/when you are challenged.
Some of our favorite celebs have not only taken the challenge, but they brought their own spin to it. Here's our must-sees.
Tom Hiddleston
First up, The Avengers star and fangirl sex symbol Tom Hiddleston's video, which is awesome on three counts. 1) His wardrobe choice basically makes this a wet t-shirt contest where we all win. 2) He did in slo-mo to give us all time to savor his sacrifice (and abs). 3) He challenged fellow crushable stars Luke Evans and Benedict Cumberbatch. So he paid it forward, basically.
Taylor Swift
Go big or go home. Several celebs brought their family/friends/entourage/back-up dancers into the challenge, but pop star Taylor Swift donated $100 to ALS for each of the peeps in her vid. She not only showed the cold hard cash, but then got wet and wild in this short and sweet vid that co-stars actress/model Jaime King.
LeBron James
Now onto "King James." At 6'8", Cleveland Cavaliers' LeBron James is a big, macho man. But throw a big bucket of freezing water on him when he's only got his skivvies to protect him, and hear him scream like a child! Good on you, LeBron. And bonus bravado points for nominating President Obama.
Weird Al
Doing James one better is Weird Al Yankovic. The funny music man who has a massive hit on his hands with his new album Mandatory Fun got silly with his vid, then breaks the fourth wall to challenge President Obama, the Dalai Lama, and the Pope. As the "Tacky" singer says, "Your move guys!"
Post by Chris Pratt.
But the best of them all comes from our hero of the summer, Guardians of the Galaxy star Chris Pratt. We love him, and here he just gives us more cause. Just watch. We dare not spoil.
Did we miss your favorite? Sound off below!
Your Daily Blend of Entertainment News
Staff writer at CinemaBlend.