Watch Key And Peele Audition Cats In A Hilarious Viral For Keanu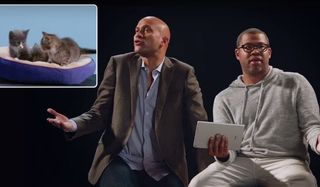 Jordan Peele and Keegan-Michael Key decided to bypass the famous Hollywood trope, "Never work with children and animals," for Keanu, their first feature film as a leading pair. During production you can only imagine that the duo encountered numerous problems with their feline counterpart. In fact, a new viral video to promote Keanu shows us that they found it impossible to even cast the titular, furry star. You can check out a clip of Key and Peele hilariously auditioning cats for Keanu by simply clicking below.
Basically auditioning cats looks like it would be the best job in the world. Just look at how small, cuddly and stupendously adorable each and every critter was. Unfortunately both Key and Peele found themselves focusing on the negatives of each of their potential co-stars, and had a hard time picking out the ideal thespian.
First there was Salsa, who immediately just came across as problematic. In fact, you could tell from just a quick glimpse into his eyes that this particular cat would probably cause havoc, destroy their trailer and act like a bona-fide diva. Key and Peele soon found an array of different problems with the other cats, too, as they were either too chill, just plain weird, or couldn't resist the urge to vigorously and intimately lick their nether-regions, even though they were supposed to be auditioning.
Keanu marks Key and Peele's first lunge to become comedic Hollywood heavyweights. Obviously the pair achieved notoriety with the Comedy Central sketch show Key & Peele, but after five seasons and 53 episodes the decision was made to move into feature films.
So far reviews for Keanu have been mixed to positive, and it currently has a score of 75% on Rotten Tomatoes ahead of its release this Friday. But it will be interesting to see how it responds at the box office, as it faces competition from Mother's Day, another ensemble piece directed by Garry Marshall, as well as the sci-fi animation of Ratchet & Clank.
Either way the pair have already got several new cinematic projects on the horizon. Not only are they currently in cahoots with Judd Apatow about a feature film, but they've also been tasked with rebooting the Police Academy franchise for a modern audience, too. So even if Keanu does disappoint financially, you can still expect to see plenty more of them on the big screen in the coming years.
Your Daily Blend of Entertainment News