Watch Melissa Rivers Play Her Mom, Joan Rivers, In Clip From Joy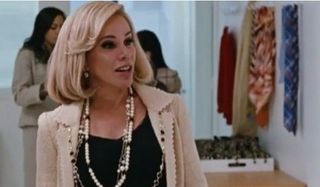 When David O. Russell and the team behind Joy decided to include Joan Rivers in the movie there was only one woman that they could turn to in order to do the comedienne justice: her daughter, Melissa. Fans of the late, great Joan might have been worried that Melissa wouldn't do her mother justice, but the first clip of Melissa Rivers playing her own mother in Joy has now emerged, and she looks like the spitting image of her.
In the clip, Melissa Rivers plays Joan Rivers when she was working as a host on QVC, and, even though she only appears for a few seconds, she really makes it count. Rivers easily displays the confident wit, charm and magnetism that her mother had in droves, reminding us about what made her such a beloved figure. And despite the fact that she was going up against the Oscar-winning talent of Jennifer Lawrence, Melissa Rivers manages to steal the scene with her quip too. Fingers crossed that she is in Joy for a prolonged period, rather than just the scene above, because it's clear that she does a wonderful job paying homage to her mother.
Melissa Rivers opened up to Entertainment Tonight, via Yahoo, about portraying her mother too. She even became emotional talking about how she focused on Joan's speech pattern instead of her accent, insisting that her goal wasn't to "be an imitation or a caricature." Melissa also admitted that she didn't even consider the "emotional risk" of taking on the part, and just surrounded herself in the details and doing her mother, who died at the age of 81 from cardiac arrest, justice.
It turns out that while she was shooting Joy, Melissa Rivers came face to face with one of her mother's biggest fans in the shape of Jennifer Lawrence, who continues her cinematic love affair with David O. Russell in her third film working together with the director. In fact, Lawrence couldn't help but recall and quote some of her favorite Joan Rivers jokes to Melissa.
There's a lot of hope that Joy will be just as captivating as David O. Russell and Jennifer Lawrence's previous collaborations, Silver Linings Playbook and American Hustle, both of which earned her two Academy Award nominations, while one of these performances even resulted in her taking home the coveted Best Actress trophy. We'll see just how magnificent Jennifer Lawrence is in Joy when it's finally released on Christmas Day.
Your Daily Blend of Entertainment News
Thank you for signing up to CinemaBlend. You will receive a verification email shortly.
There was a problem. Please refresh the page and try again.